I'm not saying it is for everyone but I am thinking about the practicality of it. LOOKS LIKE SOMETHING THAT CAN BE USED IN SPACE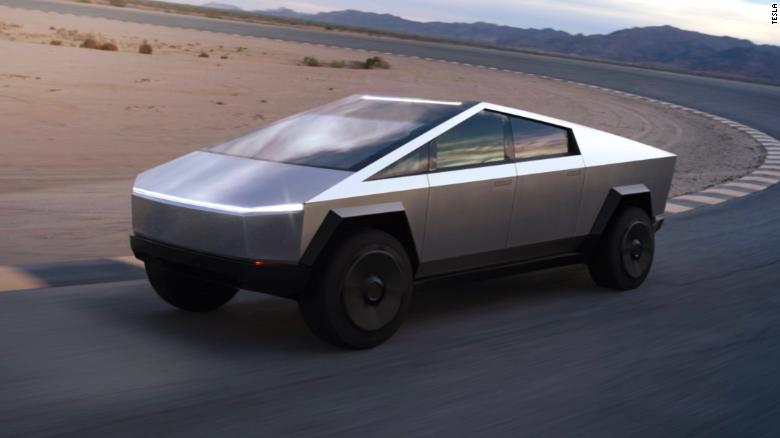 At first I was like wtf is this thing, but I saw the practicality in it.
For only $40,000, 250 miles for the cheapest edition and big seats this can make a good pull location.
EVEN THE SEATS HAVE A LOT OF ROOM TO BANG WOMEN IN THE BACK
With tinted windows, this could be great to go near night clubs at night and pickup women. Try to go for a same day lay.
Say want to check out my futuristic vehicle that looks like from some sci-fi movie.
Drive around to a secluded location, after sexually seeding things.
Get a blow job or bang in the back.
I LIKE POLARIZING STUFF BECAUSE I'M POLARIZING TO THE MAX
The kind of shit I say on Youtube or write here about the game is devoided of marketing and just brutal honesty stuff. Stuff you know its true and maybe a bit too hardcore. Open wound and all.
But that means it is polarizing.
By being polarizing a lot of people will hate you and there will be hardcore fans when you are bold and make a bold statement.
But not too bold or else people will be like wtf
Or not so not bold sugar coating shit, people just think you are a typical marketer dating coach.
AM I SAYING PEOPLE SHOULD BUY THIS CAR, OF COURSE NOT. BUT FOR SOMEONE LIKE ME I REALLY APPRECIATE THE MINDSET, TO BE DIFFERENT.
ELON MUSK AND I HAVE THE SAME VISION, TO CREATE TECHNOLOGY TO HELP HUMANITY
He had this vision to separate banks from online transactions so he created Paypal. He had this vision to go into space and created Space X. He had this vision that people should have electric cars instead of using gas.
THESE ARE ALL CALLED SUPER PROBLEMS, PROBLEMS MOST OF HUMANITY CAN'T SOLVE
Elite 30 was designed to counter Aspergers Syndrome. 
I actually looked at all the traits and thought okay 30 day challenge.
How can I make a course that is social and counters every aspect of these traits?
This is very common among hardcases.
I am going to add another chapter soon, or a video on social skills. A skill that people are always wishing it was there to complete the course. Its going to be a bonus video.
I might raise the price too by $5 to $165 soon, still deciding. Or $170.
People should not assume this is a cheap course, it is a $399 course. I could of called it the bible of natural game because it is.
Social skills plays a big part for naturals. It is why they talk to everyone non stop being a social butterfly trying to sharpen their skillset.
I KNEW I COULD SOLVE THIS SUPER PROBLEM FOR THE WORLD.
Psychologist and people who writes articles and about this topic, sounds aspergers themselves. I was trying to research some programs.
But since these guys can't even keep up a normal conversation in real life, they aren't a dating coach. I have a lot more clients and field testing, studies than they do.
I never expected this program to be so successful. But for social calibrations and social skills, it made me realize how important it is for game and it is the missing link. Its not just verbals.
A lot of these Asian daygame coaches looks borderline autistic or aspergers. No facial expressions and no conversational skills. Just hands in the pocket and SMVing it with height
THE ELITE PLAYBOOK, HOW DID I CREATE IT TO CHANGE THE WORLD
I didn't actually, the first playbook was made way before anything else because my hardcase student was so hardcase that he took months off on a break.
Dude is monotone and aspergers like imo.
But it was some of the things I learned after so many years discarding stuff that didn't work in game.
It was like marketing where you keep testing to see what works, you keep what works and discard what doesn't over time. Same concept.
Playbook every year changes, but one year it had more romantic bullshit in it, not as many testimonials.
I'm going to update the Playbook every single chapter by the end of the year.
Just make a short intro and tell people this is what I have discovered what works. Then talk about how romance is bullshit.
NOT EVERYONE FITS INTO THE BOYFRIEND MATERIAL FRAME SO ROMANCE ISN'T NECESSARY
fuckboi/same day lay guy
boyfriend/provider
friendzone/social circle
husband material
daddy daughter frame
high status/celebrity status
Still to offset the bullshit most people gets both products so they have higher social skills and social calibrations and build the game on top of it.
Some people don't see the depth in the playbook.
I secretly made it so on the surface you see whatever you want to see, but it is unlocked with the 3 Skype coaching.
I had 3 Skypes from day 1 and I thought maybe that way it's symbiotic, works together.
Its all hidden in plain sight. Everyone sees bits and pieces of the systems they see, it is a mirror. But in reality, there are 1% golden nuggets from every system. Not everyone is so bright to see it. I did it on purpose.
Every daygame system is combined and i'll reveal further updates which I normally say on Skype.
KAIZEN
A lot of tall strong positive stereotype guys who are tall white, black, Latino, Pakistani looking, whatever just SMV it.
They will say just go out there and vibe it. They are vibbing their value, their height, their muscles, their SMV and getting auto compliance being more valuable.
This might eventually get a tall black, white or Latino looking guy laid who is like 6'0 tall and decent looking. Who can fit in as a boyfriend frame having a genetic advantage. But not that many of them
But this will never work for negative stereotypes ever
Imagine is was like playing super mario bros. THIS IS WHAT IT FEELS LIKE BEING A SHORT SKINNY ASIAN MAN DAYGAMING. THERE IS NO ROOM FOR ERROR. SERIOUSLY ITS THIS FUCKED FOR ME. ITS NOT A NUMBERS GAME, BUT A GAME OF VALUE AND KEEPING HER ON THE LINE, NOT GETTING KNOCKED OUT
Lol, I remember playing this game before, its hard. Now I realized how old I am yet i'm forever 24. Lol or look like it.
Regardless, it feels like open heart surgery sometimes. When I make a mistake, you lose the patient. Cut the wrong vein once
Kaizen was designed to fix things 30 days but with my assistance. Its like me watching things like a martial arts and fixing your technique one by one.
I'm teaching a student right now. It will be tough. Maybe some of the toughest training ever.
One skill at a time until each are automatic. It is forcing Elite 30 into your nervous system until you can do it.
BOOTCAMP
To solve the super problem, most bootcamps just gives you a live Skype coaching. Great for taller stronger white black and latinos. But that won't work for shorter Asian or negative stereotypes.
These guys went though a Krav Maga like bootcamp. But my training methods are identical. Drills, exercises.
It wasn't taught like a live skype. It was taught like training you for mortal combat or a MMA fight.
It was also a physical thing because no one will remember all this Todd V shit of rationalizing it.
It was drilled into your system.
WHEN YOU GET ATTACKED IN REAL LIFE, OR GO IN A MMA FIGHT. YOUR TODD V FUCKING THEORIES. YOU KNOW, IF YOU REMEMBER THIS OR THAT, YOU WILL BE OKAY, IF YOU DO THIS OR THAT YOU WILL BE OKAY, MINDFULNESS WILL GO OUT THE WINDOW
IT WAS DESIGNED SO ASIAN MEN WILL SURVIVE.
It was designed to over throw the entire daygame industry. People don't realize it.
Sucks you got burnt by RSD for daygame. What does that have to do with me?
Regardless this solves a super problem. Most bootcamps doesn't work. But most of my students pulls or gets laid, even before during prebootcamp training, during and after. it all counts. Only 3 students didn't. Who are impossible cases who can't even transition out of a sentence, but all the other guys got laid or pulled. It was nearly a perfect record except for those 3.
If you are not able to form a sentence or two. Gets stuck, run out of things to say, delusional, timid, impossible case. Don't take my bootcamp.
I'm going to train you tougher then the military.
I'M JUST AS TOUGH AS HE IS WHEN I TRAIN YOU. EVEN MORE IF YOU MESS UP. IF YOU DO WELL I'M NICE. IF NOT WELL I'LL KEEP YOU ON THE LINE. EVERONE PULLS OR GET LAID.
Don't be a snowflake cunt. If you cry, good.
This might scare off a lot of snowflake cunts. But if you want to get from point A to B. Tough love works.
If comfort got the job done, I wouldn't be here. comfort does not work.
You are so in your head. That might work for tall white black and latinos guys with so much value rarely.
But this works for hardcases.
I break your ego apart until you submit.
The moment you let go of your ego, stop resisting, it takes a day or two. That's when you pull or get laid.
It is a fast path from point A to B.
Hope you got some insights into my mind.
Its about solving super problems. As a dating coach, 413 laid and pull testimonials. Wtf.
If the number isn't like the summer where every two days I get a new laid testimonial. It is cold right now. People aren't approaching as much. Still. I'm getting non stop laid testimonials.
So fuck your theories and sensibilities.
Snowflakes in my opinions are all losers who will amount to nothing great being emotional cunts who needs a swift kick to the nuts hard.
-John Elite