BE ENLIGHTENED

"To the disgruntled ones getting burnt by every other positive stereotype dating coach during the summer of Covid 19 for daygame but you are starving for results

Here's to the negative stereotypes minorities. The short underdogs (not tall strong barrel chested Asians). The enlightened humans.

Here's to the ones who see the world differently.

They're the ones who like my inventions and innovations that ISN'T ALL GAME, that get students getting laid one after another while other daygame coaches has no laid testimonials for their courses.

They're the ones who push the human race forward for negative stereotype game.

While some may see us as the crazy outsider ones, I see enlightened human daygamers

Because the people who are enlightened enough to believe that race, height, muscles matters, status matters, social skills, social calibrations and you have to adapt with compensation theory.. not just ZOMBIE GAME…

They can change the world with me and my mission to help 1.5 billion Asian men raise their SMV and 500k minorities are the ones who actually do.

JOHN ELITE, THE RELUCTANT HERO WHO NEVER THOUGHT HE WILL BE A DATING COACH.

20 YEARS IN THE GAME. BUT TURNS TO BE THE BEST DAYGAME COACH IN THE WORLD WITH 483 LAID/PULL TESTIMONIALS

"Think outside the RSD, Mystery Method, Simple Pickup, London Daygame, Justin Wayne, Self Proclaimed High Laycounts Funnel.. zombie box."

-John Elite
I OPERATE UNDER 4 PRINCIPLES
so you don't have to pay as much to get results much faster than other coaches
EFFECTIVENESS
EFFICIENCY
EFFORTLESS
ELITE
Long Story Short Version Of My Resume
If you wanted a dating coach with high SMV who is tall and strong, preselected who just has to vibe it to get over the line. I am not that guy. T
he real story, I never had it easy, but most people don't know the full story. I've been through hell and back. I been through your struggles and persevered with even lower SMV than my students and figured it all out so you don't have to.
MY STUDENTS ARE THE BENEFICIARIES. YOU GET TO SKIP 18 YEARS OF MISTAKES AND FASTRACK YOUR WAY TO GETTING LAID FAST. BACKED BY OVER 400+ LAID/PULL TESTIMONIALS
Meet John Elite
I am the worlds top expert in helping minorities get laid more in daygame
If you desire to get laid, learn my daygame system that is transferable to negative stereotype minorities, and transform their dating life then I can definitely help you.
I am specialists in daygame for negative stereotype minorities and my accomplishments include:

I was a university student, who started to daygame by accident because I got friendzoned in highschool by every girl in my social circle. I used a layguide but it was more of a night game guide. I used it at university. But I left university so I needed to find a better way. I really wanted to learn how to cold approach women so I wouldn't have to just keep getting auto rejected by indirect game nonsense of NLP shit and Mystery shit. He didn't have the Mystery Method back then, but he did disagree with Ross Jefferies in 2003. I started in 2001, I am the OG of daygame .
I wanted to be able to get dates even lays so I could get laid more.
The thing is I was using indirect game, or field testing every system because no one had the solutions for an Asian man. These were more designed for taller white guys. That meant I wasn't able to get dates even lays, let alone get laid more.
To make things worse, I felt terrible because I realized that race did actually matter. Back then there were no Asian dating coaches and no one that gave any real advice while everyone was using the tall white man's game. I felt even worse about the situation because I kept going from one direct game system to another. I read every single theory I could of the game and field-tested it. It didn't work, then I got digital products. I felt like Is this all marketing B.S? Or dating coaches SMVing it? Is the whole industry b.s? Was it really all game? Is there something missing? Is it because I am Asian? .
The problem was that going direct got me unreliable phone numbers and it was a game of value. Back then mind you we didn't have texting. That also made it harder too. We just had to call women and their dad will pick up the phone. We would write her number on a piece of paper or our hand with a pen. Which meant I was still not getting the results I was looking for. I was daygaming more than 10 hours a day. I bus out to malls, daygame all day then went to Vancouver, daygame some more all day until night time.
Then, as if by chance, something amazing happened…
That's when I started to discard pieces of the game like Bruce Lee. As he said, absorb what is useful, discard what is not, add uniquely what is your own all about It revealed that if something isn't working, just take the best golden nugget 1% from that system, discard the rest and move onto the next system. I figured on a long enough timeline, I would eventually crack the code!
It was now crystal clear to me how to I was getting closer and closer to some progress at least because I saw that if I learned every single daygame system in the world I will eventually crack the code.
I also learned that game itself wasn't everything because trying to improve your game has its limits. There is a line of fvckability, 20/35 chart. You need to focus on also learning social skills as taught by my Pakistani mentor later on who was the only one giving me gold bars in my game. You should stop thinking its all game, but work on your social calibrations like body language, facial expressions, vibe instead of spitting out these game sounding autistic Aspergers tactics if you have lower SMV as an Asian instead.
As a result, I started to last a lot longer in the conversation at least…
After I did that, I started get more dates than before.
Suddenly, I had more experience dating.
That's when I realized that the secret to figuring out daygame. I used a layguide but it was more of a night game guide. I used it at university. But I left university so I needed to find a better way. The more systems I went through, the more things were revealed to me. But only in golden nuggets where I had to discard the dirt from the gold. They all followed the give a direct compliment, build a bit of attraction, comfort, and number close bullshit numbers game.
My plan was to start learning even more systems, direct, indirect, anything I want to learn it all, no matter where it was from…
So I started I even learned Justin Wayne's system at the time and others. But I didn't stop there.
I even started teaching his system combined with all my golden nuggets. It wasn't enough because Romance auto rejected my students who didn't fit in as the boyfriend/girlfriend frame using romance and samepagology nonsense.
After that, I even joined another company that I thought had gold coins, but this was fools gold.
But there was still a problem…
but in reality, I discarded my gold learning this new system and it still wasn't as effective as all the golden nuggets before. I didn't understand why but it wasn't Asian friendly, but it created plateaus. My Asian students got laid because of all the old golden nuggets in my products that others don't notice. I started to slowly discard more nad more of these gold coins which they were more like copper coins.
When I quit, I was retrained by my Pakistani mentor who had the gold bars in my daygame system before when he taught me GamingElite. He didn't teach John Wayne. The gold coins which I thought was dirt in my old system as GamingElite turned out to be gold nuggets and coins. The new coins I got turned out to be dirt or fools gold. I only kept a few golden nuggets to put into the pile of gold.
My Pakistani mentor retrained me in his mansion and I gave me the gold bars of the game. He updated my high-value natural game, text game, Instagram and everything else that other dating coaches didn't know. As I became John Elite discarding the name John Wayne
I ended up getting so frustrated that we decided to I quit and restarted my old company which I was called GamingElite. Now I dropped the Wayne part of my name and added Elite from my old name. The old with the new. 
I chose to call it "John Elite Dating".
I thought if we could create something that would make it possible to combine all the golden nuggets, coins and gold bars I learned before of daygame. All the real functional pieces for the lowest SMV Asian men, i'll be really happy.
After I got even more laid testimonials than before with a lot fewer students. Everything became more Effective, Efficient, Effortless, Elite. I created John Elite Dating.
I can now I was getting people laid so much it wasn't even pulling women home, but the students were getting laid that even women were chasing them over the new upgraded fashion. I learned from my Pakistani mentor and also their Instagram to raise their status…
I then started to let other daygamers use my newer daygame system called The Sexual Connectio as I discarded every single piece of romance
As a result of all this I was able to achieve the following:
I had more laid testimonials than anyone in the entire world. So much so I had 17 times more than the old company, 400x more than most daygame companies for proven student results.
Not only was I the best daygame coach in the world before. Even more, testimonials were posted today. Lots weren't even posted yet.
After creating John Elite Dating, I was not only able to The 18 years wasn't for nothing. I was put on this earth to suffer all these trials and tribulations so I can become the best daygame coach in the world. Also to teach the tools to Asian men so they don't have to struggle like I did in daygame, I've also been able to stop discarding dirt from daygame because my system was getting closer and closer to perfection after almost 2 decades, because we can now I have all the golden nuggets of the game, gold coins and even gold bars. My students benefit greatly. Although I focused on Asian men, every other race trained with me getting impossibly good results like getting laid in daygame. The higher the SMV with my game, the crazier their results were.
And in the end, all of this means I'm now able to start my cultural change to help Asian men in daygame while other Asian dating companies were clueless. I also transformed myself too, improving the social skills and social calibrations area. Not working to optimize emotions and the game category is getting nearly maxed out. If my students follows my teachings exactly and are teachable, they always get results. Depending on if they are an easy case, normal case, hardcase or impossible case. But they all usually get results eventually depending on how fast their mind can adapt. 
Education:
18 years in the game field testing every daygame system
Started in a University 18 years ago using a layguide which was a night game guide but John used it accidentally for daygame. John is the first PUA style daygamer in the world, accidentally
Taught almost every major daygame system in the first year to field test what works
6 years as a dating coach
Trained by 2 dating coaches
Mentored by 8 naturals
THAT'S GREAT JOHN, NOW GIVE ME THE LONGER VERSION OF THE STORY
I REALLY DID START IN 2001, I WAS DAY GAMING IN UNIVERSITY AND USING THE LAY GUIDE
Work History:
Worked even for other daygame company for a short while but quit. I don't work for mercenary companies whose focus is money, fame, retirement and not helping minorities first.
Awards, Titles, and Designations:
Over 400+ laid and pulling women home testimonials
Banged women way above my looks scale, height and way younger than me
Other Info:
Can get students laid of every race, every continent from highschool to even married and divorced students even into their 40's
The only daygame coach in the world to get this many laid and pull testimonials for daygame. It is more than every coach in the world combined
I had to spend 18 years and field testing everything to get this style game daygame to be this transferable. It is a science and not theories.
When you want to get laid more, I am the top expert dating coach to turn to for daygame.
I will help you get laid, learn my daygame system that is transferable to negative stereotypes minorities, and transform their dating life!
Who are not my students and will never be
If you love to worship other dating coaches rather than getting the results of your own, you are not my student
If you like to feel comforted and talked to in a comforting tonality because you have low self-esteem and high ego. You are not my student
When you are delusional and you always believe you are right, despite evidence or your lack of daygame results as a hardcase. You are not my student.
When you dress like shit and think fashion doesn't matter
When you think race doesn't matter, SMV or sexual market doesn't exist, its all game
When you think going direct is the best method for short skinny minorities.
When you think it is just a numbers game and not a game of conversions
When you think RSD is not a bunch of unethnical marketers and actually helpful when in reality you don't get results and are taught ineffective daygame. When in reality they want you to consume 10 hours of content to spend 1k with them
When you have like more than a dozen daygame system under your belt because you are a sheep who is easily marketed to
When you are unteachable, resistant and opinionated even if you have no results of your own to counter my arguments
MY STORY, MY STRUGGLE OF JOHN ELITE
Hi, I'm John Elite and I am a daygame coach who has 423 laid and pull testimonials in daygame.
I'm here to tell you the TRUTH you need to know about daygame!
In fact, here's the biggest problem you face right now.
It's big-name daygame companies who are marketers.
But that's not the end of the problem. It actually gets worse! Why?
Because you trust big-name marketers automatically! Giving them authority without thinking about it…
Which means it rarely works for minorities.
And, worst of all, most daygamers can't get past the idea that if the coach gets results being tall, strong and white, black or Latino looking, you get the same results.
WATCH THE LEVELLING VIDEO TO UNDERSTAND WHY POSITIVE STEREOTYPES CAN'T TRANSFER THEIR GAME TO OTHER STUDENTS WHO AREN'T POSITIVE STEREOTYPE MINORITIES
MY OLD PICTURE OF ME JOHN ELITE, WHEN I WAS A TOTAL NERD BEFORE
Although I was one of the first daygamers in the world.
I used the lay guide back then in University.
I was, a virgin trying to get laid in university.
The big problem was that 18 years ago I was the first daygamer as a PUA. That meant getting no results, which was frustrated.
I never knew the guide was only for night game.
It was a very NLP driven guide.
I was day gaming racist white girls on the bus and on campus before K-Pop even existed.
It was really our only positive stereotype in terms of dating.
I was depressed 127 pounds, Asian nerd, trying to look like a video game character.
I had zero fashion sense. Was not good with women.
Although I was a pretty boy. I got friend-zoned left and right. I felt entitled to more.
I had such bad anxiety, I couldn't leave the house for many years. I just played video games all day. I didn't see much of a future, I gave up.
The only thing that even made me leave the house was taking Israeli Krav Maga.
I thought it would alleviate my anxiety. But it only made it worst. But hey, at least I can disarm weapons like some movie actor.
It also gave me my mindset in life.
Which was absorb what is useful. Discard anything that won't work for smaller, less advantaged people.
I would daygame sporadically here and there. But I eventually went back in the field. At this point, I have learned almost every major theory of game.
John Elite is a coach who stands at 5'7 without heel lifts who teaches daygame in Vancouver for 6 years.
He originally started with daygame in 2001 AT CAPILANO UNIVERSITY
There were no positive Asian stereotypes at all in the media so John Elite experienced a ton of racism and xenophobia from approaching white girls on the bus and campus.
Every break from taking an art program, John will approach girls all-day field testing the lay guide.
Which didn't work for his body type.
Mystery and Ross Jefferies fought online in 2003, 2 years after John was approaching.
He went on to research and field test every style of game imaginable. Everything from indirect, to direct, to natural and direct until he discovered Justin Wayne.
Not joking I literally field tested every system for 3 months to 6 months each to see what worked or didn't. Why I found most daygame systems were 1% golden nuggets and 99% bullshit? I screenshot a few of the products I bought
I HAVE STUDIED EVERYONE'S SYSTEM, I JUST FULLSCREEN AND SCREEN CAPTURED TO SHOW YOU THESE SYSTEMS. IF SOMETHING IS BEING TAUGHT IN THE DAYGAME INDUSTRY, I PROBABLY FIELD TESTED IT ON MY LOW SMV TO SEE IF IT ACTUALLY WORKS OR NOT. THERE IS ON SPIN ON THESE POST,
This slideshow requires JavaScript.
ALL OF THESE ARE MY COPIES OF THE PRODUCTS AND BOOKS. I HAVE TONS MORE I HAVEN'T EVEN SHOWN YOU. THERE IS NO SPIN IN THIS POST. THIS IS A BIOGRAPHY. I CAN LITERALLY MAKE A POST FOR EVERY SINGLE SYSTEM I FIELD TESTED
Sorry been away for a day, needed to read a bit, i'm back at least. You will learn my real backstory with the game. John Elite, or GamingElite the mad scientist who is always looking for golden nuggets of daygame and discarding the rest of the dirt. I believed every system had 1% or two percent good things I will collect it all and put it together.  
BACK THEN IN UNIVERSITY, THE BACKSTORY
I was a PUA called GamingElite before I joined any company or even worked as an Entrepreneur dating coach trying to figure out daygame.
I used a layguide but it was more of a night game guide. I used it in university. But I left university so I needed to find a better way. I really wanted to field test more systems because indirect from Ross Jefferies and Mystery concepts weren't that effective so I wouldn't have to just keep getting auto rejected by indirect game nonsense of NLP shit and Mystery shit.
He didn't have the Mystery Method book yet, but he did disagree with Ross Jefferies in 2003. I started in 2001, I am the OG of daygame .
I also did field test Neil Strass game for daygame before called Rules of the game 2007. I studied everything.
Indirect, then disqualify yourself, saying you aren't approaching her, say she is brunette your into blondes. Invite her out to a party, invite all the numbers there. I know everyone's system. 
I JUST WANTED TO GET A FEW DATES HERE AND THERE. AT THAT TIME MY BELIEF IN DAYGAME WAS SHAKEN AFTER I LEFT UNIVERSITY
I wanted to be able to get dates even lays and I could get more results in daygame.
The thing is I used indirect game, or field testing every system because none had the solutions for an Asian man. That meant I wasn't able to get dates even lays, let alone get more results in daygame.
To make things worse, I felt terrible because I realized that race did actually matter.
Back then there was no Asian dating coaches and no one that gave any real advice while everyone was using the tall white mans game. Even JT Tran didn't show up until a later time but his game wasn't getting any daygame laid testimonials, just night game.
TRUST ME I BOUGHT MOST OF THEIR PRODUCTS AND I FIELD TESTED EVERY SINGLE MATERIAL AND EVERY SINGLE COACH. HE HAD THIS MYSTERY METHOD LIKE METHOD TAUGHT BY SOME LATINO WHO DOESN'T HAVE AN INFIELDS OR ANY PROOF OF ANYTHING
HE EVEN THINKS ASIANS SHOULD GO DIRECT, HI MY NAME IS JT, WHAT IS YOUR NAME? OR YOU ARE FUCKING BEAUTIFUL. YEAH… TRY THAT DAYGAME, I DARE YOU
He also have this Asian inner game nonsense. I say for my Asian students with inner game issues. His students are happy to get a kiss on the cheek or overcome their limiting beliefs. My Asian students gets laid and overcome their limiting beliefs. That's more effective. 
ABCDEF
OFF THE TOP OF MY HEAD, I MIGHT OF MESSED UP A STEP OR TWO, MY MEMORY ISN'T PERFECT BUT I STUDIED IT. IN DAYGAME THEY ONLY GO UP TO THE C PHASE AND NUMBER CLOSE.
A = ATTITUDE, APPROACH ATTRACT
B = BANTER, BE IN THE MOMENT BT SPIKE
C =COMFORT, COMPLIANCE, 
D = DISQUALIFY, DIRECT INTENT
E = ESCALATE 
F= FUN OR FUTURE
I felt even worse about the situation because I kept going from one direct game system to another. I read every single theory I could of the game and field-tested it. It didn't work, then I got digital products.
I felt like what the fuck is this, is the whole industry bullshit? Is there something missing? Is it because I am Asian?
Its just the same as Mystery Method venue changes that screws over Asian men. They should be focused on pulling non stop. He believed there was a low investment first part of the date, then you spike the emotions then some romantic dinner or walk and pull.
Today I know all you need is maneuvering, sexualizing to the max and objections dealing, comfort to close. This stuff is adding venue changes and delaying seduction until the end. This is my copy of the book btw, so I am screenshotting it, which is pure bullshit.
JOHN DO YOU HAVE A BONE TO PICK WITH MYSTERY? YES I FVCKING DO. MYSTERY'S NIGHT GAME CONCEPTS HURT ASIAN MEN BECAUSE NIGHT GAME IS MORE ABOUT SOCIAL CALIBRATIONS BODY LANGUAGE AND A LITTLE BIT OF GAME. NO SOCIAL SKILLS OR EMOTIONAL INTELLEGENCE. JUST A FILTER GAME OF DRUNK DTF WOMEN SO ASIANS STILL STRUGGLED WITH DAYGAME AND THIS COMPANY HURT ASIAN MEN FOR DAYGAME
I RAN INTO ANOTHER WALL AND NOW REALIZED THAT RACE DID MATTER MORE THAN EVER. BEING ASIAN IT IS HARDER IF YOU AREN'T TALL, STRONG OR GOOD LOOKING. YOU NEEDED AT LEAST ONE OF THOSE TO COMPENSATE
I never understood this chart until much later
The problem was that going direct got me unreliable phone numbers and it was a game of value.
Back then mind you we didn't have texting. That also made it harder too. We just had to call women and their dad will pick up the phone.
We would write her number on a piece of paper or our hand with a pen.
Which meant I was still not getting the results I was looking for.
I was daygaming more than 10 hours a day. I bus out to malls, daygame all day then went to Vancouver, daygame some more all day
Then, as if by chance, something amazing happened…
I REALIZED I CAN FIELD TEST EVERY SYSTEM LIKE A MAD SCIENTIST AND SEE WHAT DIRT I CAN DISCARD AND WHAT GOLDEN NUGGET I CAN ABSORB. ANY PROGRESS WAS BETTER THAN NO PROGRESS AT ALL AT UNIVERSITY. 
There was no Asian daygamers back then, it didn't exist. I had to go in it alone and figure this out. I wasn't even a dating coach yet. I just wanted to see if it worked.

That's when I started to discard pieces of the game like Bruce Lee.
It revealed that if something isn't working, just take the best golden nugget and move onto the system.
I figured on a long enough timeline, I would eventually crack the code!
It was now crystal clear to me how to I was getting closer and closer to some progress at least, because I saw that if I learned every single fucking system in the world I will eventually crack the code.
I also learned that game itself wasn't everything because trying to improve your game has its limits.
There is a line of fuckability, 20/35 chart. You need to focus on also learning social skills as taught by my Pakistani mentor later on, but I will get into that later,
You should stop thinking its all game, but work on your social calibrations like body language, facial expressions, vibe instead of spitting out these game sounding autistic Aspergers tactics if you have lower SMV as an Asian instead.
I DID MEET HIM LATER ON IN THE FUTURE WHEN I WAS GAMINGELITE AND A DATING COACH
It was Yad's game that sort of helped me last a bit longer in conversations actually
At the time the assumption stories, challenging, push pull, teasing, self amusement was from Yad. So he gets the credit for the golden nuggets. It was a new way to think about the game because he had this chart.
THE CHART IS VERY FLAWED. IF ATTRACTION BUILDING STUFF IS ALL THE RIGHT CROSS. IT IS LIKE GOING TO A MMA FIGHT AND ONLY THROWING THE RIGHT CROSS. 
IF THE RAPPORT WAS ALL JAB, THEN IT WAS LIKE ONLY THROWING JABS. YOU WILL GET KNOCKED OUT AND MOST OF THE PEOPLE USING THIS GOT FUCKED OVER BY INFERIOR TACTICS. JUST AS SEDUCTION IS AT THE VERY END, HOOK PUNCHES. YOU ARE USING THE SAME PUNCH IN EACH STAGE WITHOUT VARYING IT. NO WONDER IT DOESN'T WORK WELL. YOU HAVE TO DO A HUGE NUMBERS GAME.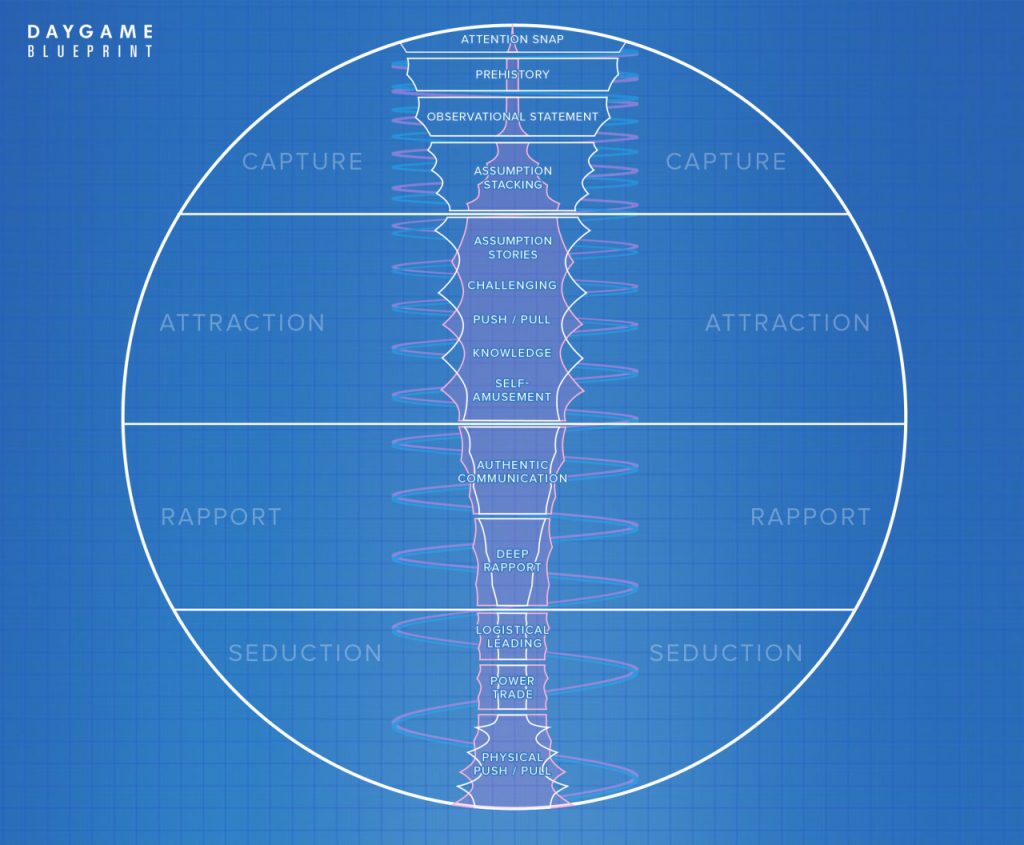 As a result I started to last a lot longer in the conversation at least. .
After I did that, I started get more dates than before .
Suddenly, I had more experience dating.
That's when I realized that the secret to figuring out daygame.
I used a layguide but it was more of a night game guide. I used it university. But I left university so I needed to find a better way
The more systems I went through, the more things were revealed to me. But only in golden nuggets.
They all followed the give a direct compliment, build a bit of attraction, comfort and number close bullshit numbers game.
The Plan
My plan was to start learning even more systems, direct, indirect, anything I want to learn it all, no matter where it was from. .
So I started acquiring every material I can and trying to take the golden nuggets from it. If there was something good I want to learn it. Even if I can take 1%. But I didn't stop there.
I then started to field test them every system 3 months for each of them at a time to see what worked and what didn't work.
After that, I can see what led to more dates and pulls and which ones didn't or lays. I can then discard some pieces.
I started even looking into natural game. But these were tall white guys SMVing it. It wasn't the same as the real naturals that I know today. What they taught was purely bullshit.
A good looking guy who hires actresses, not even game. fictional writers
I'VE LEARNED THIS STRUCTURE FROM MATT ARTISAN, HE GETS CREDIT FOR THE SOCIAL COMFORT PHASE IN THE PLAYBOOK. ALTHOUGH HIS GAME IS JUST A COMPLIEMENT AND REPEATING THIS STAGE 3X AND GETTING A NUMBER WHICH I DISAGREE WITH…
I SIMPLE REDID THIS PROCESS AND TWEAKED IT. NONE OF THE OTHER WAYNES USED THIS BEFORE. BUT I CHANGE MATT ARTISANS TRIANGLE TO SOCIAL COMFORT.
I often am not good at connecting, but though field testing I knew if I kept my body more relaxed at this stage I would get her asking me questions.
I'm not the emotional type and I like to steam roll over women. Which actually is more suitable for Asians.
ALSO, OTHER WAYNES DIDN'T CARE IF THE WOMEN ASKED QUESTIONS OR NOT, BUT I DID. SO DID ALL THE NATURALS I LATER WAS MENTORED BY. ALSO, ALL THE NATURALS DID IT.
BUT I ALSO LEARNED IT FROM ROOSH V'S BOOK DAYBANG, THAT WAS WHERE THE GOLDEN NUGGET CAME FROM. WOMEN WILL ALWAYS ASK YOU, WHAT IS YOUR ETHNICITY, WHERE ARE YOU FROM, WHAT DO YOU DO?
The yellow part of the chart actually came from naturals and Roosh V. I still think Roosh V's indirect game sucks.
YOU CAN SEE A QUALIFY STAGE. JUSTIN WAYNE'S SYSTEM LATER ON HELPED ME SET IT AT THE ESCALATION LADDER.
JOHN WAYNE'S AND JUSTIN WAYNE'S ESCALATION LADDER WERE THE ONLY ONES THAT HAD 5 STAGES IN IT LEVEL 1 TO 5. NOT 4. SO THAT IS DIFFERENT. I DISCARDED THE QUALIFICATIONS. IT WASN'T NECESSARY. ILL TALK ABOUT HIM LATER IN A FUTURE POST. JUSTIN WAYNES GAME GAVE ME SOME GOLD COINS NOT JUST GOLD NUGGETS. BUT LOTS OF DIRT TOO ALONG WITH THE GOLD
I ALSO CALLED OUT JUSTIN WAYNE ABOUT ROMANCE, HOW ASIANS DIDN'T FIT INTO THE BOYFRIEND GIRLFRIEND FRAME WHEN I TALKED TO HIM FOR THE FIRST TIME AS JOHN WAYNE.
HE WAS LIKE YEAH, YOU STILL HAVE TO ADD ROMANCE SOMETIME RIGHT? UMM…
BUT THAT'S FOR ANOTHER TIME
If conversational skills were jabs
teases were right crosses
flirts were hook punches
Uppercuts were touch. 
JUSTIN WAYNE'S GAME IS ENTIRELY UPPERCUT AND HOOKS
IT IS ENTIRELY MISSING JABS AND RIGHT CROSSES, ATTRACTION BUILDING. SINCE HE IS A TALL NEGRO THAT IS PRESELECTED. BLACK PEOPLE HAVE A HUGE ADVANTAGE.
BEFORE I LEARNED SIMPLE PICKUP BULLSHIT. THEIR GAME WAS MAYBE ONE OF THE WORST. KONG HAD ONE PULL INFIELD AT NIGHT. JESSE JUST GOT ONE INDIAN GIRLFRIEND. IT WAS A WELL MARKETED BULLSHIT.
TURNS OUT ROOSH STARTED IN 2001 TOO BUT MORE OUTSIDE NIGHT CLUB STREET GAME. HMMM INTERESTING.
HE ALSO HAD A SYSTEM CALLED GALNUC, I KNOW AND FIELD TESTED EVERYONE'S SYSTEM. I MADE IT MY BUSINESS TO LEARN EVERY STYLE
G = GERMAN, WHAT'S YOUR ETHNICITY
A = WHAT IS YOUR AGE
L = WHERE DO YOU LIVE
N = WHAT IS YOUR NAME
U = WHAT DO YOU USUALLY DO FOR FUN
C = CLOSE OR NUMBER CLOSE.
SIMP PICKUP AND LOVE SYSTEMS TALKED ABOUT QUALIFICATIONS. I DIDN'T KNOW WHERE TO PUT IT. LOVE SYSTEMS WAS CONFUSING AS HELL AND MORE MYSTERY METHOD WHITE MANS TECHNOLOGIES NOT DESIGNED FOR AN ASIAN…
Simp Pickup was where I learned a 30 day challenge. So I thought why not make one for social skills instead? Wouldn't that just make it a lot easier to teach social calibrations? It came from Simple Pickup that idea. I didn't learn shit from Simp Pickup. It was a bullshit system of 20 minutes to nowhere. How to get flaky numbers.
If I were to learn one thing in my system, it is down talk. That is what Jesse talks about all day. Down talk this down talk that.
KONG HOWEVER HAD THIS STUPID STATEMENT IDEA. HOW HE FUCKED UP CONVERSATIONAL STRUCTURE FOR THE REST OF THE WORLD AND LONDON DAYGAME BOTH FUCKED IT UP ROYALLY TOO
QUALIFICATIONS WAS HERE BUT LOVE SYSTEMS DIDN'T EVEN KNOW THE CORRECT FUCKING ORDER. SO IT JUST CONFUSED ME.
ITS SUPPOSE TO BE APPROACHING, TRANSITION, ATTRACTION, COMFORT, QUALIFICATION AND SEDUCTION YOU DUMB FUCKING IDIOTS. IN THE FUTURE JUSTIN WAYNE PUT THE PIECES TOGETHER

But there was still a problem…
STILL NOT ENOUGH GOLDEN NUGGETS
I wasn't even a dating coach yet at this particular time. I was just a PUA who goes out there daygames all day and all night. Then comes back home. Just happy to have any small success was better than getting auto rejected in university.
I really wanted to believe that it was all game. Not SMVing it.
At the very least they later have texting on cellphones. This was the era that gave more women power to flake on guys.
I DID LEARN A BIT OF TEXT GAME FROM VALENTINE, MATT ARTISAN AND MY PAKISTANI MENTOR BTW. THEY GET CREDIT A BIT FOR THE GOLDEN NUGGETS. BUT NO WHERE NEAR AS GOOD AS MY TEXT GAME TODAY. BUT IT WAS A START. I HAD A FEW BIG GOLDEN NUGGETS. NONE OF THE OTHER WAYNES CARED FOR TEXT GAME.
I HATE TODD V, BUT HE HAS BEEN IN THE GAME FOR 19 YEARS WHILE I HAVE BEEN IN THE GAME FOR 18 YEARS. THE DIFFERENCE WAS I FIELD TESTED EVERY SYSTEM SCIENTIFICALLY AND HE STUCK TO HIS RSD SHIT. WHY OUR TESTIMONIAL COUNT IS THE OPPOSITE FOR STUDENTS LAID
You can see how I am more scientific I field test and split test. He was more of a philosopher. As he would say in his winner game product, my philosophy this my philosophy that. I am not interested in theories or mental masturbation
FRED
FOCUS, REDIRECT, EMOTIONS, DECISION. I KNOW EVERYONE'S GAME. I MADE IT MY BUSINESS TO KNOW. ITS BULLSHIT CHECKLIST OF CONCEPTS. NOTHING YOU CAN TRAIN FOR.
I learned another golden nugget text game but I made it 10x better. 
Due to Todd, my Daygame stop, where you focus for 2 seconds was from his idea of attention. One golden nugget. Todd gets credit for just the second step ATTENTION
I didn't realize he had two golden nuggets. I sure as hell don't like Validation.
When I talk about him or his concepts I am not talking out of my ass. I really do know. There is a difference between understanding and knowing. I know, I field tested everyone's game.
TEXT GAME FOR MINORITY, THE GOLD BAR FROM MY PAKISTANI MENTOR
JOHN ELITE WAS ALSO TAUGHT BY THE INNER CIRCLE. A GROUP OF HIGH VALUE NATURALS WHO HAD PERFECT SOCIAL SKILLS
My Pakistani mentor was throwing gold bars of wisdom and I didn't understand it. Back then I was trained like Batman as GamingElite. My text game was shit and even worse than other students I teach now
.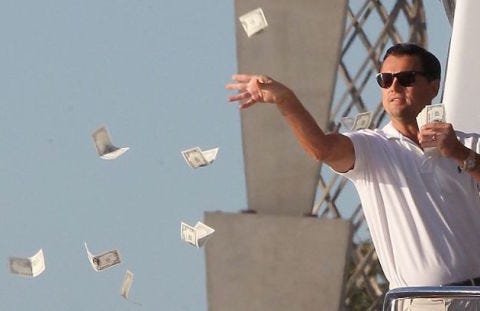 I remember I used to write big ass paragraphs to women. It was so embarrassing.
He would show me his text, which are small but it keeps going back and forth.
He didn't even ask women out, he started talking about how she isn't allowed to bring panties on a date
He would bang her as he said so hard that she becomes in his rotation. He had a way of converting women. They loved him for it even if treated very roughly.
I was like what sort of sorcery is this? She was the one begging for it. Not the other way around?
As he always told me, make it seem like it was her idea…
IT DIDN'T MAKE SENSE TO ME AT THE TIME, BUT NOW I KNOW HOW HE DID IT. HE MADE WOMEN CHASE AND THE OTHER DATING COACHES IN THIS INDUSTRY HAS NO IDEA HOW TO DO THAT
They just call it a game of volume with very little calibrations. Yet this guy can get most of them out now like 95%. Which the industry had 11% at best.
When I was doing direct game before if handsome tall white guys had 11% coming out on dates. This was before tinder or any Instagram before it was famous. I had less than 11%, lets put it that way.
WHY DO YOU THINK I DESPISE DIRECT GAME? IF IT WAS A GAME OF VALUE… ESPECIALLY IN HONGCOUVER WHERE THERE WERE A TON OF ASIAN GUYS WHO WERE IGNORED…
I had zero exotic factors here.
The things white dating coaches did were inferior to what I learned. It was like they were autistic sociopaths or something with narcissism.
I even learned how to DHV ON TEXT, how to flake on her first and get her to chase.
This was an era before Instagram even though he taught me Instagram and I was too stupid to understand all of this.
EVENTUALLY, I FOCUSED MORE ON SAME DAY LAYS, FUCK TEXT GAME. 
I thought it was all about the interaction, while only half true, there is such a thing as text game. The inner-circle of different members all got women out.
I was taught by a tall white guy who was handsome. How he used phone game to build face time which can be the same as a date.
I CAN'T TALK ABOUT THESE SECRET TECHNOLOGIES.
HE DIDN'T LIKE ME AND WANTED ME OUT OF THE GROUP. BUT HE GOT KICKED OUT. NOT ME. YOU CAN TELL A LOT ABOUT HOW A PERSON FEELS ABOUT YOU WHEN YOU TAKE A PIC WITH THEM. YOU CAN SEE HOW THEY REALLY FEEL ABOUT YOU AND SEE IT IN THEIR EYES. THAT IS THE SECRET TO LIFE
If I can find the footage you can see how he daygame a women Halloween with a mask and still closed her the next day. The technologies and styles of game. GamingElite was mentored in mindsets and natural game by him. I was mentored by a ton of people actually. While the group was secretive, he was willing to meet other PUAs
John is also trained by tall white guys? Yeah, sorry to break it to you. Trust me I know about this race hierarchy and even this guy refuses to believe it when my Pakistani mentor told him, yeah John was right, your race helps you a lot. It pissed him off because this white guy thought race didn't matter.
To them its all game as they think before in the inner circle. Or your socials skills and vibe. But I still learned a lot about inner game from him.
It didn't matter Vancouver was so difficult most of the PUAs quits in 3 weeks after their bootcamp or 3 years if stone cold sociopaths. Unless you had perfect social skills, height and value, race advantages.
Vancouver will curb stomp you to the ground. This was a place of no mercy and I trained my bootcamp students here.
I called Vancouver or Grandville Killzone before.
We even waited at choke points so we didn't have to walk all day. Even launched each other out of the car and approach. Then we got each other back.
It was maneuver warfare at least metaphorically speaking.
THAT'S ME DAYGAMING RUNWAY MODELS. BACK THEN AS GAMINGELITE I DIDN'T GIVE A FUCK. BUT THE PAKISTANI MENTOR CAN GET ME INTO JUST ABOUT EVERYWHERE LAST MINUTE. THIS WAS LAST MINUTE I CAN'T AFFORD A TICKET IN THEIR
The mindset that was taught to me was who cares what the women thinks. You are the most important in the relationship. Some David X kind of stuff but I was there way before David X was there. I started in 2001. 
One strict rule was I wasn't allowed to let my students I was teaching, to talk to the inner circle. Not even to say hi. These people were secretive of their technology.
You never seen behind the scenes, how I got this Aspergers student to get into a runway modeling show where he dated 2 models. Although… Asian
Regardless I made a course called Text game for minorities based on many years ago technologies.
MY PAKISTANI MENTORS TEXT GAME IS EVEN BETTER TODAY.
It was a big part of his game, he might be the best texter in the world and I know how its done now.
Even a friend and I tried it, it worked and women kept sending him nude pics. We were like wtf is going on…
HE WANTS TO WRITE A BOOK WITH ME. HE TOLD ME AS I WAS HANGING OUT IN THE MANSION. HE IS LIKE FVCK THE WORLD, IF I WANT TO SHARE MY TEXT GAME TECHNOLOGY, I WON'T SHARE IT UNLESS WE ARE BOTH CO-AUTHORS. SPLIT IT 50/50 AND I CAN FINALLY LEARN IT ALL.
He never showed me all the text, but just some.
THE SCARIEST THING WAS WOMEN KEPT BEGGING TO MEET. BEG, LIKE A FVCKING DOG. SERIOUSLY, EVEN FOR MY LOW SMV, THEY NEVER BEGGED.
HE BANGED 14 WOMEN IN FRONT OF ME, EVEN KICKED SOME OUT IF THEY MISBEHAVE. THEY WERE ALL 9/10, NOT 10/10. HE HAS SOME POWERFUL INNER GAME
These women were hotter than Justin Wayne.
HE WAS NOT A BIG FAN AT ALL, HE SMELLED B.S AS HE TOLD ME YET I WAS A FAN BEFORE…
For the Pakistani mentor,
Is this guy some kind of natural? But a high value natural.
FUCKBOI/SAME DAY LAY
BOYFRIEND/GIRLFRIEND FRAME
FRIENDZONE SOCIAL CIRCLE
HUSBAND MATERIAL
DADDY DAUGHTER FRAME
HIGH STATUS/CELEBRITY STATUS. 
I think he also has a bit of a high-status kind of frame and husband material.
Some of the fashion he wears even if I thought it was stupid. Like a pink dress shirt. He got a same day blow job as we went to the horse races. I was like wth…
THIS WAS HOW I WAS MENTORED. BUT IN A PUA WAY
I was shown all the secret locations of Vancouver to daygame no one knows too. All the bars all the stuff. I wasn't allowed to tell a living soul.
Well good thing I have no sense of direction or map reading anyways. So I was completely lost. 
I was very angry and confused at the time, I was going though every daygame style 3 months at a time.
He is not a dating coach nor does he even knows how to teach it. But he lives that life to that degree and I get to scientifically study it. Yet I was stubborn because I was like oh daygame is everything, fvck lifestyle game. Its all bullshit. I upset this secret society.
Secret societies are not dangerous people, its just a way to keep privileged knowledge out of the hands of the public.
I wasn't trained like a dating coach training me.
THE RSD VICTIM FUCKUP
I was late to RSD, but that's when my game tanked to rock bottom.
I LEARNED FROM ANOTHER TALL STRONG ASIAN DATING COACH FOR ONE DAY AND HE WAS TRAINED BY RSD TYLER AND RSD JULIEN. NOW I HAVE THESE SOCIOPATH GAME INTO MY SYSTEM.
RSD IS CANCER AND THIS CANCER DESTROYED VANCOUVER OR ALL THE ASIANS. THE WORST THING IS THEY DIDN'T EVEN REALIZED IT AND ALL QUIT TO NIGHT GAME.
I really didn't know until later on when someone else told me he learned from RSD. Also Simp Pickup stuff. The lines were ripped out of RSD and this kind of game has destroyed Vancouver for almost a decade. Luckily I put a stop to that shit.
There was no comfort stage whatsoever. Just SMVing. Everything fell apart.
RSD was the worst of the worst, even worst than Simp Pickup.
I ended up getting so frustrated that I decided to teach some of this stuff for free in the beginning and see what works and what didn't.
I chose to call it "GamingElite teaching students for free during the first year just to split test what worked or not".
I thought if I could create something that would make it possible to see what golden nuggets worked then I can see if it was my race or was it a game issue. That would be awesome and shed some light into the whole issue of daygame, I'll be really happy.
After I taught every single race, every height. I even started to steal students from other dating coaches and taught them for free to begin my crazy experiment, I GamingElite taught students for free during the first year just to split test what worked or not.
I can now get tall white students laid. But if someone else got laid he was often a tall guy, like Tall Indian or tall this, or tall that. They were around 5'9 to 6'2 for all of them. This seemed to be the sweet spot..
I then started to let other daygamers use GamingElite teaching students for free during the first year just to split test what worked or not.
As a result of all this I was able to achieve the following:
I was able to get some of the students laid at least and all the tall ones were getting results. The Asians were still getting curb stomped in Vancouver and most of them will either just game Asian women or quit daygame entirely.
The most sociopathic Chinese ones will stay longer because they were mentally tougher, but eventually they will all give up and say fuck it.
In fact most of Vancouver PUAs would only daygame for less than 3 weeks. Its that tough here. Get their ass kicked so badly they quit to night game.
After I GamingElite was teaching students for free during the first year just to split test what worked or not, I was not only able to know a bit better what to do.
I realized I was at least a better daygame coach than all of the daygame coaches in the world.
I already have more students laid and I was getting a reputation of my teaching abilities,
I've also been able to stop spending so much time field testing by myself, so the students can field test which systems has the 1% golden nuggets or where they all make-belief fictional bullshit,
I can now discard the pieces that were just marketing hype, keep that 1% from every dating coach in direct game and do the whole Bruce Lee process of absorbing what is useful, discard what is not, add uniquely what is your own process in a faster way.
And in the end, all of this means I'm now able to start to form bits and pieces of the puzzle to daygame.
However, it wasn't perfect until I finally saw Justin Wayne's system. It finally let me see at least more of the picture. This was the same time I also met my Pakistani mentor. Who taught me the true nature of daygame and lifestyle was included.
THE STORY
WILL CONTINUE
AGAIN LATER ON
FOR THE INNER CIRCLE
JOHN WAYNE OR NOW JOHN ELITE WAS ORIGINALLY MENTORED BY 8 MENTORS THROUGHOUT THE YEARS. THE ONLY ONE GIVING GOLD BARS, NOT GOLDEN NUGGETS WAS MY PAKISTANI MENTOR
I got obsessed with field testing every daygame system in the world until it worked.
A lot of things didn't work, but all the systems had a golden nugget or two to it but the rest is shit!
Instantly it became crystal clear to me how to to mix the best pieces together to get laid, because I saw I figured out daygame for the lowest SMV or sexual market value Asian or minorities such as myself who isn't a positive stereotype.
My plan was to start field testing and combining the best pieces of daygame while discarding what didn't work for me.
So I started teach daygame for free for a year. But I didn't stop there.
We then I taught every system to field test it.
After that, we I got many mentors in daygame thoughout my process who are naturals.
PLAYERS, NATURALS AND NON DATING COACHES TOO
But John Elite formed his game on his own. He had advisors
Ever wonder why my game is so different? I have been influenced by people outside the industry who are players and naturals
5'11 Pakistani mentor taught me lifestyle game and fashion maxing, text game
 5'5 Pakistani mentor taught me mindsets, natural before approaches, indirect flirting and finding the right strategies for every girl
Tall German male model mentor, taught me phone game, natural but not direct, not caring what the girl thinks
Tall Persian mentor taught me natural and direct, how to filter girls, vibes and looks isn't the most important vs vibes
Tall Chinese mentor, vibes, body language, kino, pulling, closing in bedroom
Tall Persion 1600 laycount. Emotions that led to Elite 60 program. Posing the body to activate vibes. How to be chilled, frame control. But not transferable to Vancouver.
Tall Korean taught me how to risk eagerness to the max, how muscles matters, being normal with social skills is everything
White natural who wasn't attractive but bangs 8/10 to 10/10 at his prime so easily.
Later on his John's daygame journey, he trained for one day by another local Asian dating coach who was 5'11, strong and handsome with zero game.
Like all these guys students, none of them pulled except two students in daygame.
One from his online course. The other guy didn't post a testimonial.
Since this instructor has none so far for daygame, only night game. It is all copy and pasted RSD concepts Asians gravitates towards because they say looks don't matter.
John wasn't happy, or disgruntled and believed there could be a better way. He began to realize this coach is all about looks, height, muscles and almost zero game.
His students only pull from night game, like most Asian dating coaches. This wasn't transferable to Johns body type.
John took many of this guy's potential clients and trained them for field testing. He trained every body type and ethnicity.
He started to see a pattern that taller white guys had more results and compliance.
He started to use Justin Waynes game and dated a 18-year-old runway model for an instadate. He was hooked on the system.
This is where John uses instadates and heavy escalation on his dates to solidify his numbers or go for same day lays.
Although romance got John auto-rejected because not all white girls wanted to be John's girlfriend using samepagology.
John knew he was on the right track at least.
JOHN ELITE DOESN'T ENDORSE THE OTHER GUYS 6 MONTHS TO MASTERY PROGRAM OR HIS ULTIMATE AUTISTIC MODEL. IT DRAGS ON FOREVER WITH A GAME THAT ISN'T TRANSFERABLE TO NEGATIVE STEREOTYPE MINORITIES. ONLY POSITIVE STEREOTYPES SINCE MOST WOMEN THINKS HE IS BLACK.
IF IT WAS THE SAME DAYGAME SYSTEM, WOULDN'T THE OTHER GUY GET 100 TESTIMONIALS ALREADY NOT LIKE 25? I HAVE OVER 400+ I WAS THE TESTIMONIAL GUY, WOULDN'T CREDIT BE TAKEN FROM ME? DOES THE OTHER GUY EVEN KNOW WHAT I TEACH? IF HE IS SMVING IT LIKE A TALL STRONG BLACK GUY?
Do you know from which country I am born? She always has no idea.
Then he said I'm from the country that yoga is born. She has no idea.
Then he said kamasutra? Then she said Indian. He said YES
NO!
YOU ARE BLACK AND HAVE THE SAME SMV AS A TALL STRONG BLACK GUY NATURAL STATUS THAT IS 8/10. THAT'S WHY HSI GAME ISN'T TRANSFERABLE TO NEGATIVE STEREOTYPE MINORITIES. 
HOW DID GAMINGELITE BECOME JOHN WAYNE FOR 2 YEARS?
WE MET WHEN HE SAW A COMPILATION OF ME AND I DID AN INTERVIEW. THAT WAS THE FIRST DAY WE MET. THIS WAS GAMINGELITE OR JOHN DOLE FROM FACEBOOK. HE WAS A PRETTY GOOD PUA, A BIT UNREFINED. NOT EMPATHETIC JUST STEAM ROLLS OVER WOMEN.
At this time I was teaching Justin Wayne's game. I was tired of teaching direct game and natural and direct game.
Only the tall students got laid from it. It was upsetting. That's when I knew height mattered so damn much in Vancouver. I wanted to try the next style on the list and Justin Wayne's system was right around the corner.
One white student after another kept getting laid with my coaching and I was like wtf is going on.
THE ASIANS, GOT DESTROYED. THEY HAD NO RESULTS WHEN I COACHED THEM BEFORE. IT WAS A MIRACLE TO GET THEM LAID. THAT'S HOW LOW ASIAN MENS VALUE IS IN VANCOUVER. MOST WILL JUST APPROACH ASIAN WOMEN AND TRY TO TELL THEMSELVES THAT IS WHAT THEY ARE INTO… YEAH RIGHT
I kept trying to refine it into my version because Justin Wayne's game was flawed.
Every time there was a samepagology. I realized that Asian men kept getting auto rejected because they have no compatibility with romance. They should keep it all sexual.
I like you do you like me? She would often say as a friend.
Now we know there are 6 frames.
Same day lay/fuckboi frame
boyfriend girlfriend frame
Friendzone/orbiter
I was like wtf, and my students who were Asian were also like wtf.
Before that I was trying to figure an order. I already spent over a decade with all this daygame shit, but Justin Wayne gave me an order at least.
I had some instadates, some pulls some lays here and there with Justins game.
Whenever the girl will comply on the instadate or pull I would pull out my video camera and snap a piece.
I was teaching Justin Wayne's game and I didn't know who Deepak was
One day I saw his video on Youtube. Maybe though Justin Wayne's Youtube Deepak showed up talking about fashion or something and Justin slowed down his voice to make him seem retarded.
I was already field-testing every combination of fashion like I field-tested everything like a scientist.
I mean, for me my super ability in life wasn't the worlds best daygame coach even though I am. I was also good before. I already have a ton of students laid from bootcamps.
My super power was to take golden nuggets from every system and put it in such a way that the cake will rise.
AT THE TIME I WAS A HUGE JUSTIN WAYNE FAN. I WAS LIKE OMG LOOK AT HIS INFIELDS AND THE WOMEN HE GETS. THERE MUST BE SOMETHING THERE.
I saw there was another Wayne and from Germany? I thought he was another bald black negro guy.
I saw a video or infield where he turned a no girl, Taiwanese women after 45 minutes of talk. I was like wow that was so cool.  (in before this is screenshoted and taken out of context)
It said he was Indian and I was like wtf? There is no way he is Indian…
I HEARD A SHARP GERMAN ACCENT, BUT I SAID, OKAY… WHATEVER. He said he's Indian, then he's Indian.
He looked like a black guy with glasses and a shoulder sling bag. Later he told me to look more hipster or alternative.
THE TRUTH WAS I FINALLY FOUND THIS channel Wayne Dating Lifestyle with one S.
DEEPAK IGNORED EVERY ONE OF MY POST AS GAMINGELITE.
I would be like oh I like your video. Then ignored.
At the time he would like everyone else's post. I already posted a compilation one day.
He would reply to everyone else except me. He probably found me as a strange short Asian guy, I was really thinking this is cool.
At one point even though I was a dating coach already for almost 4 years. I was actually one of Deepak Wayne's biggest fan. (don't spin this out of control) I'm just being objective. But obviously after going to Europe somehow things changed obviously. So what was it that changed? Not me, him. I can't talk about it.
I didn't know what changed, but that was when I got no credit for anything and London Immersion bootcamp documentary made me want to throw up how much it was not even close to reality. He was the hero, I was the assistant?
WTF I SAID, HE LATER TOLD ME I ALREADY SCHEDULED ALL OF IT, SO I CAN'T TURN IT BACK.
But I digress. Let us get back to the story.
They made a forum group so I joined it at the time. Personal Development, Wayne Dating lifestyles.
Since I was a dating coach, I kept giving game advice there. When people asked me I would just give them advice then upsell them to my coaching of GamingElite in private messages. I had this www.Vancouverdaygame.wordpress.com blog. I didn't make a lot as a dating coach back then. WordPress was free. If you click on it, it will redirect back to my site.
Others got kicked out for soliciting directly and I wasn't stupid.
Eventually, I talked more with Micheal Wayne in the forum even private messages.
I was still teaching a hybrid style of game mixed from every old system I taught mixed with Justin Wayne's. I was doing well until samepagology where I got auto rejected sometimes.
While I did get laid quite a bit with his game, it wasn't consistent. I had to put in some volume of approaches
I WAS STILL BEING MENTORED BY MY PAKISTANI MENTOR AT THE TIME. I LATER CUT IM OUT BECAUSE HE TOLD ME YOU DEEPAK AND MICHEAL WAYNE ARE 3 PSYCHOPATHS ON A BOAT. ONE WILL KILL THE OTHER TWO, TRUST ME HE WILL FUCK YOU OVER. NEVER TRUST BROWN PEOPLE.
I TOLD HIM AT THE TIME TO FUCK OFF. A LOT OF THE FASHION CONCEPTS, TEXT GAME AND HIS LIFESTYLE CONCEPTS AND HIS GAME WAS MORE AGGRESSIVE. HE NEGGED SUPER HARD.
GamingElite was no longer being trained by the Pakistani mentor. He was the reason I got so many testimonials.
WHEN I POSTED THE COMPILATION, IT CAUGHT DEEPAK WAYNE'S ATTENTION AND MICHEAL WAYNE
They didn't know who I was, but they knew I was taking their students and teaching them and getting them laid.
At least now I was on their radar. Every move I made I noticed they are watching.
I just bought the Ultimate Seduction Model product.
I already have my own Gaming Elite Playbook at the time but it was incomplete. As I told you.
I remember in the summer I borrowed this guys camera to film the other half of the Gaming Elite Playbook.
I already had some videos for the playbook it was a pretty primitive product and you can still see some of the stuff still in my product. It was bigger, it was the second version. This was version 1.
I watched the Ultimate Seduction Model and asked someone to borrow their credit card to buy it (although today I think it is an inferior product designed to confuse and foist people into bootcamps due to unclear concepts)
I do think today my product is superior to both. But before I really liked it. I thought fuck Justin Wayne's domino effect.
I was like oh cool, not just god damn romance, but romantic sexual, romantic sexual.
I didn't know at the time I would discard it because it creates levelling or plateaus with Asians who don't fit into the boyfriend-girlfriend frame.
Justin Wayne's romance worked when I combined it with the sexual connection of my game. Which was maneuvering, sexualizing and objections dealing.
I WANTED SOMETHING BETTER THAN JUSTIN WAYNE'S GAME. TRUST ME I CALLED OUT JUSTIN WAYNE ON ROMANCE BEFORE OR SAMEPAGOLOGY HE HAD A GROUP ZOOM CALL AND I CALLED HIM OUT WHILE ALL HIS NEGRO FANS GOT PISSED OFF AT ME SAYING YOU CAN'T SAY THAT TO OUR HERO. 
I GOT INTERVIEWED AT THE TIME. DEEPAK WANTED TO TALK TO ME BECAUSE I USED ONE LINE FROM HIS PRODUCT. I SAID SOMETHING ABOUT OUR FUTURE KIDS WITH THAT BLONDE GIRL. I THINK THAT I DIDN'T FIT INTO THE HUSBAND MATERIAL FRAME YET. WAS A LEVELLING OR PLATEAU MOVE.
I was on Skype and it was a long ass interview. But it was cut down.
He was muscular as shit, I remembered his muscles rippling out of his light blue shirt.
When we talked we understood each other.
He asked me to tell me about myself. So I said I have been in the game since 2001. I said the same thing started with Ross Jefferies, Mystery Method, Pauk Janka, London Daygame, Simple Pickup, RSD.
I ripped into Justin Wayne.
He told me but John, we can't talk about Justin because I work with him.
At the time, I thought his USM was better. Tbh, now I'm not a fan. But before at the time I craved new knowledge.
We both criticized white dating coaches. We both talked about LMS. I was like holy shit we think the same. I figured he must have a similar experience.
I LATER LEARNED DEEPAK WAS TRAINED BY RSD TYLER AND BRAD. THIS WAS TRUE. ALSO LONDON DAYGAME HE DABBLED IN IT THEN JUSTIN WAYNE THEN HE MADE SOME TWEAKS.
For me I had way more systems, I literally tried it all. Every product or book I would read it and test it out in the field and get tall white students laid and the Asians were left in the dust.
DEEPAK PAUSES IT FOR A SECOND, SAID, JOHN I THOUGHT YOU HAVE AN ACCENT OR SOMETHING. HOW COME YOU DON'T HAVE AN ASIAN ACCENT?
I told him I was born in Vancouver.
Then he said, oh that is interesting.
HE SAID CAN YOU SAY SOMETHING NICE ABOUT ULTIMATE SEDUCTION MODEL?
Can you say it again but this time like in this way? I just wanted to get it on Skype. I said sure.
That's when I talked well about the product. At that time I didn't even know his game and it was new to me.
I hated Justin Wayne's sampagology so much. I was happy to be learning something new. I really thought it was the answer at the time.
Micheal Wayne scouted me, not Deepak.
Micheal Wayne was like my dear John, I was called John Dole.
It was supposed to be John Doe, as in a body that can't be identified they called it a John Doe.
Micheal said John, I know you are stealing our clients here at Wayne Dating Lifestyles.
I said i'm not stealing them, I was just teaching them. They asked me first.
He said, with his weird voice. That's okay John.
He asked me, how seriously do you want to be a dating coach officially? Not just teaching in Vancouver here and there. Or a few Skypes here and there. But teaching professionally
I was like Micheal, I am a professional dating coach. What are you talking about? I've taught for so many years.
He said, I want to know, if this is a hobby for you, or this is something serious?
Do you want to play at the highest level. You are at an amateur level?
I said I was serious. This is not a hobby. I have been teaching it for like almost 4 years now.
One day I bought a domain and a site along with it. It was http://www.elitedaygame.com for my name GamingElite.
Micheal Wayne said take down your site, I can see you are serious. I was like why take it down? I just spend what little money I have on it. It cost a lot.
He said now have you ever thought about Joining Wayne Dating LIfestyles and becoming a Wayne?
I was like, wtf? What do you mean?
I said yeah, I had a vision I would be the next Wayne actually.
MICHEAL WAYNE SAID OKAY JOHN WE NEED AN INFIELD FROM YOU. DO YOU HAVE ANY MEANS TO ACTUALLY RECORD IT?
I said I have this french Cellphone called Acatel Idol 3 I took from my parents and didn't give it back.
He was like no John, you don't get it.
We are professional dating coaches. You need content, what you have on your cellphone wasn't good enough.
Do you have some way to record it longer?
I was like maybe I can buy a small camera.
I had a camera man finally and I scraped whatever little money I can. It was an expense. I didn't tie my Paypal to my bank at all.
It wasn't 4k, but it was the first gen model. It was almost $400.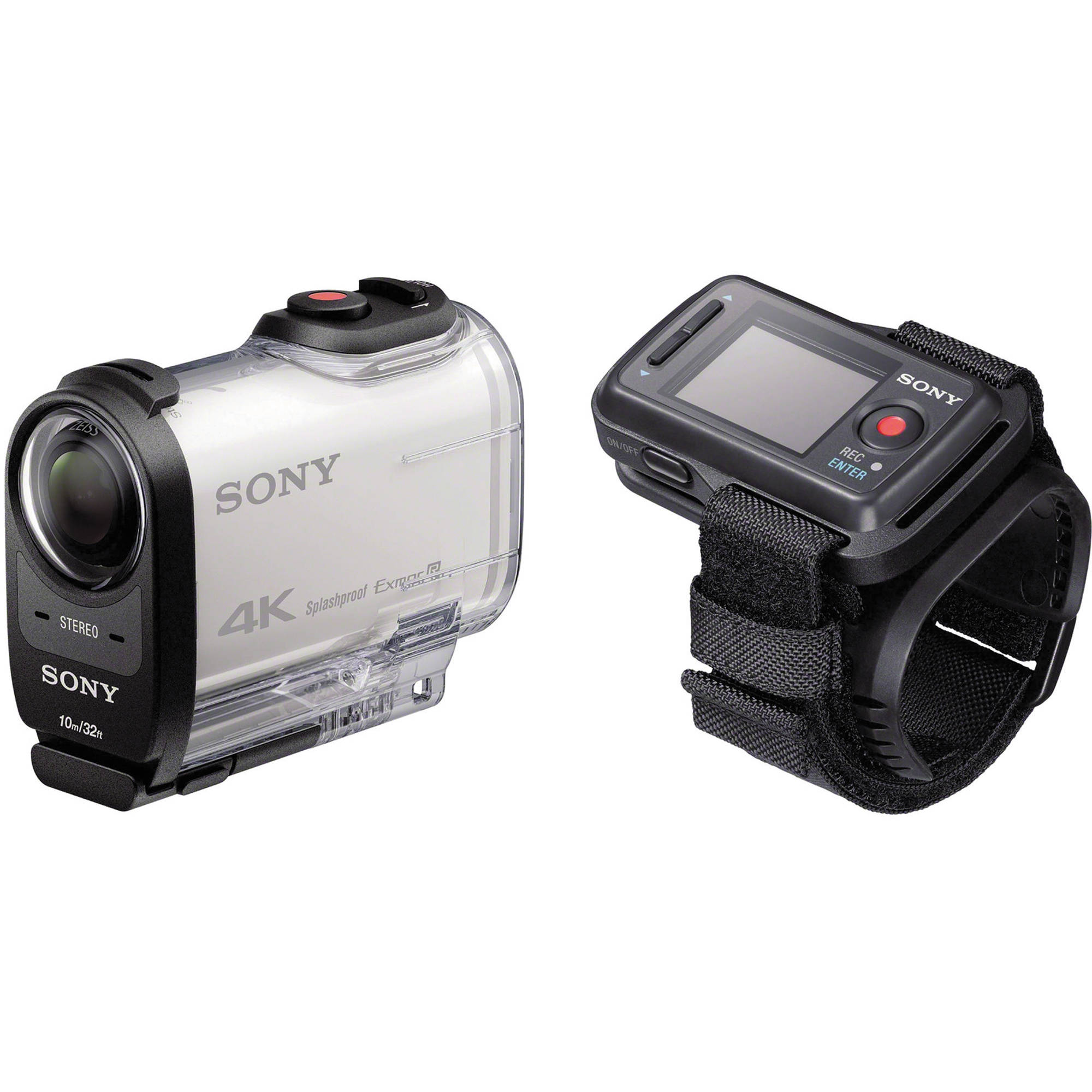 MY DEAR JOHN, LET ME SHOW THIS TO DEEPAK, THEN WE WILL GET BACK TO YOU.
Deepak like Justin Wayne is very distant from me.
Justin always been hesitant of me as I have him on facebook. He would see my infields later and non-stop student laid testimonials for many years.
Later Justin would get so jealous of me getting non stop results he kicked me off his forum group. But I digress.
MY DEAR JOHN, DEEPAK AND I HAVE DISCUSSED IT. YOU SHOULD GET A CAMCORDER
I WAS LIKE FUCK THAT AND BOUGHT THE OTHER ONE LATER. DEEPAK ALSO BOUGHT THE SAME CAMERA LATER ON.
We tried it, to see if it even works. So we filmed on infield in the mall.
Turns out no matter what, it can be hidden in our hands.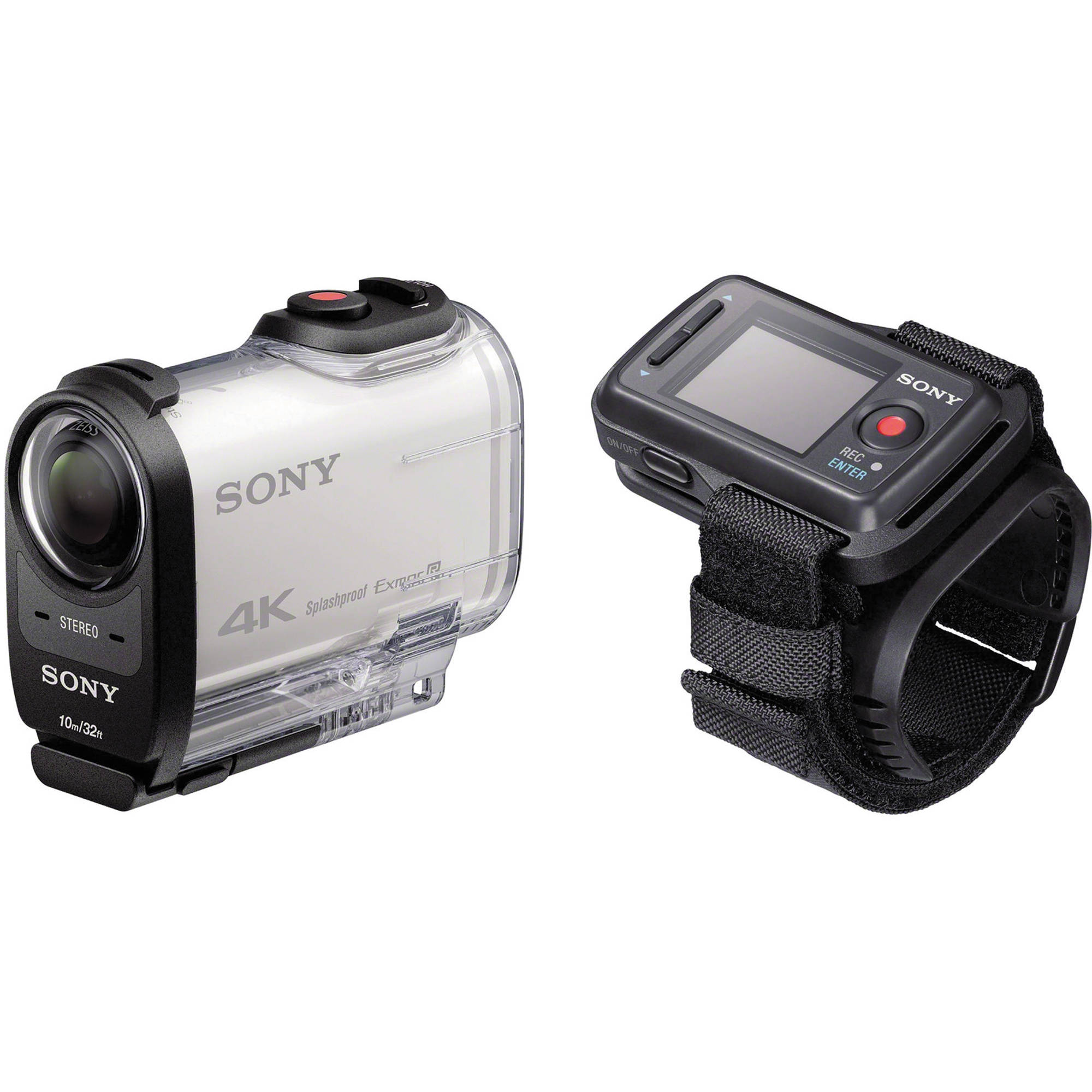 It had this watch thing that you can see what the camera is seeing.
GETTING THAT INFIELD WAS HARD, IT WAS RAINING IN VANCOUVER EVERY SINGLE DAY
It was getting so cold and luckily the camera was waterproof but we were not.
I asked Micheal, its been harder than I thought.
He said yeah its like Oct almost Nov and not even Deepak approaches in the cold. Its harder.
WHAT HE MEANT WAS, THERE WAS NO SOCIAL COMFORT. WITHOUT COMFORT, YOU CAN'T PLAY THE GAME PROPERLY. WOMEN WANTED TO GET INSIDE.
Eventually, I was like, can someone analyze my infields so I know what I'm at least doing wrong?
I know the weather was totally fucked. It was too cold, even women inside the mall felt chilled to the bone.
I told Micheal, i'm really finding this weather harder. I was doing well before.
Can I join 6 Months To Mastery?
HE SAID SURE, YOU CAN JOIN FOR FREE JOHN YOU ARE A FUTURE INSTRUCTOR.
I said no, listen. I don't know what you teach outside of USM. I know so many styles.
Let me pay something.
How about this John, half or something.
I said bill me on Paypal. I thought I was making a good investment at the time. But it wasn't the most Asian compatible system with lower value.
When I first met Deepak, he was a dark guy with a bald head and a big blue sweater. We went over my infields. A lot of the things I learned was I put my hand in the pocket a lot and I could use my hands more.
Now I have changed it to total congruency. I can't get into it but I improved that.
IT WAS GETTING COLDER AND COLDER OUTSIDE. HIS GAME FOR SOME REASON IT SOUNDED GREAT AT THE TIME. BUT ITS NOT AS EFFECTIVE AS SOME OF MY OLD TWEAKS BEFORE 6MM.
The stuff I teach my students now was from before 6MM. The sexual connection was the same except back then I had some romance in it from Justin Wayne. Now that is gone the testimonial count has tripled or quadupled even with less students.
NOVEMBER WAS TOO COLD AND RAINING. MY CAMERA MAN AND I ARE PUTTING OURSELVES THOUGH HELL. DECEMBER WHEN IT CAME IT SNOWED. THEN I GOT THE INFIELD.
Right now Vancouver is full of snow. It wasn't pleasant but I wasn't soaked. The snow help set the mood and I got my infield.
I never posted it or I forgot all about it.
I was just happy to get that infield because you can see snow everywhere.
I will never do daygame in the rain again or the snow.
In the future I was getting some of the hotter girls using Justin Wayne's style in the past. I wanted to believe this style was better. I had more of an Asian style mixed.
At this time I praised the game because I enjoyed learning it. There are a lot of concepts I have changed or discarded and some I enhanced it.
I STARTED TO TEACH FOR WAYNE DATING LIFESTYLES. JOHN YOU NEED TO COME UP WITH A NAME. GARY WAYNE OR OR WHAT? I SAID HOW ABOUT JOHN WAYNE?
ALTHOUGH GAMINGELITE WAS A GREAT DATING COACH.
He got just as many students laid in bootcamps as John Wayne or John Elite. That was my old game.
Now i'm back to teaching the old game. But I could appreciate learning Justin's and Deepaks game. But my version of the game on Playbook version 2 was getting me non stop testimonials as I sold the product.
AFTER USM CAME OUT I MADE THE THIRD AND THE OFFICIAL LAUNCH OF THE JOHN WAYNE PLAYBOOK
Micheal Wayne insist I learn Premiere pro, you are in the big leagues now and you have to learn how to market yourself.
DEEPAK RELEASED CONVERSATION DOMINATION. I WAS STILL IN 6MM AND IT REALLY SCREWED UP MY GAME.
When I was learning 6MM I was taught more to be in the moment and stuff the opposite of that product.
It made me really weird when I talked. I thought USM was a much better product. Conversation domination was not for me.
I SAID TO MICHEAL, I RELEASE THE PLAYBOOK WITH 3 SKYPES. WHEN DEEPAK RELEASED HIS PRODUCT, HOW COME IT ALMOST LOOKS THE SAME AS MY PRODUCT?
He said my dear John. You and Deepak are negative stereotypes. Now I don't think so, but before I did.
Now I realized height, muscles and race can overcome anything. Looks doesn't give you a huge advantage unless you are like 7/10 or above. I'm nowhere close.
But he said you came up with similar conclusions.
THE STRANGE DISAGREEMENT. NO CONTRACTS SIGNED
Micheal Wayne suggested I make up a contract I renew on a yearly basis.
Then later they saw all my testimonials and saw dollar signs.
They wanted me to be an Asian RSD Max, positive upbeat and stuff. They instead hired the RSD Todd V equipment. Overly technical, less emotionally structured type.
MICHEAL ASKED ME IF I CAN SAY THIS IN THE CAMERA, THE TESTIMONIALS IS SHARED WITH THE COMPANY.
I SAID FUCK NO, WHAT IS GOING ON?
SOMEONE EDITED MY TESTIMONIALS AND WROTE TEAM WAYNE DATING LIFESTYLES WITHOUT MY NAME. 
I said, if you don't put my fucking name on the testimonials right now. I am leaving.
He said, don't say things like that, when you say you are leaving, it makes me think we put a lot of effort in you.
They discussed it and said okay we will put your name John Wayne on it. I said Micheal I own all the testimonials, I always will. But I am sharing it with you now. As long as my name is on it. But they belong to me. Got it?
He is like yes.
ALSO, IT WASN'T ME WHO TOOK YOUR NAME OFF, IT WAS DEEPAK FOR THE RECORD AND HE WALKED AWAY SUPER FAST
I didn't think anything of it at the time. I wanted to be a Wayne so badly I over looked these small things. They later led to bigger and bigger things. But in the beginning he didn't show any signs outside of that of screwing me over for an entire year. So that's why I repped him but he stopped repping me. But that's something that happened in the future.
Micheal Wayne later got screwed over. He was beaten to a bloody pulp threatened.
NOW I GOT A BIGGER AUDIENCE. IMAGINE GAMINGELITE HAVING THIS MANY STUDENTS TO TEACH? IT WAS EASY TO GET THEM LAID
I was already a good dating coach. In fact I was already the best in the world.
But now I get to teach a fuck ton of students.
I already got another infield the Anastasia one and it made more sense to release that one first so we scrapped this hipster girl.
FAST FORWARD AFTER 2 YEARS, JOHN ELITE QUIT, AFTER GETTING THREATENED EVERY DAY AND ALL HIS CREDIT STOLEN
John Worked for a daygame company since January 1st, 2017 and quit two years later.
He was a dating coach for the company and not some assistant. John had 90% of the daygame testimonials for the company and they even tried to steal it on the first day until John protested if they don't at least put his name on it, John will leave.
John didn't sign any contracts after that incident and will work for that company at the time if it is operating under win/win.
Obviously, during the last year since John came back from Europe working for the company, it turned into a lose/win for John.
The first instance John knew he got backstabbed was the London Immersion documentary featured John as a small footnote. Tried to portray me as an assistant. I knew since he kept rolling his eyes as I was teaching… since we taught two different styles of game.
I didn't have the footage, was promised it will be a fairly edited documentary.
When in reality it looked like a Nazi German propaganda spinning everything. Which I now call him Spin Doctor Wayne… It was the first instance I knew I was screwed over. I always was, but the knife finally went into my back.
John got out of there when he realized the company was about retiring rich, famous like RSD Max as he was told on the phone negotiating when Deepak told John he doesn't want to fight. (He might feel different today since he did make a lot more)
Also, about envy and will screw over anyone who is better at any category. Or try to take credit for my testimonials for a daygame system that isn't even theirs.
John Elite thought they taught two different systems, but the way he was censored so much, all the credit stolen… Its rediculus since John Elite taught since 2013…
John no longer had moderator status at the time, it was revoked. He then say I quit.
Then Deepak Just like how he treated Michael Wayne also blackmailed John too. Same pattern.
John black mailed him back. Deepak was psycho for the next year.
One day the fighting stopped when they both agreed not to fight.. It was a truce.
Until Deepak once again broke the agreement. To this day his audience are dumb benchode sociopath autistic sheeps who worships.
But they don't know what I know. He indirectly spins thinks like he is the hero.
He fucks over everyone around him. He makes himself out to be the hero. You have to ask yourself who is in the middle? If its supposed to be everyone elses fault. Which is the perpetrator.
KARMA WILL GET HIM BACK, IT IS NOT MY JOB TO DESTROY HIM. This is obviously not a hero.
https://johnelite.com/2019/03/20/deepak-wayne-threatened-me-again/
JOHN ELITE ASKED THE INNER CIRCLE FOR FORGIVENESS AND WAS REMENTORED AGAIN. JOHN GETS RETRAINED EVERY FEW YEARS BY THE INNER CIRCLE
HORSE RACING EVENT, HE GOT A SAME DAY BLOW JOB IN FRONT OF ME. YOU WILL SEE FOR FUTURE VIDEOS WHEN I WAS GAMING SUPER HOT WOMEN. HE TAUGHT ME HOW TO USE EVENTS TO FUNNEL THE HOTTEST WOMEN IN VANCOUVER TO DAYGAME THEM.
I heard him gaming or talking. I was like this guy already fucking replies before she even speaks or half a second, like a super fast processing power. Like as if he had a email sequence he fired off every time she said this or that. But it was all-natural and in the moment. I was like holy shit, no matter how good I was, this guy will kill me in daygame.
He was above any dating coaches. We are a lower caste as dating coaches to these people.
He also stole a women I got a number with. He got it too then she met him instead. I mean, did I get cockblocked?
Never fully trust brown people as he would tell me all the time.
I felt outclassed, outgunned.
So when I share the inner circle technologies with the world. I am holding a lot of gold bars back. I can't go into details.
But this secret society group of PUAs or high-value naturals were so damn good, I think everything all the golden nuggets or few gold coins were utter bullshit. 
I was like these aren't just lower caste naturals, this is a high-value naturals. All the naturals I knew all had mansions and were millionaires.
IN TERMINATOR 2 IN THE MOVIE THEY SAW A SUPER POWERFUL PROCESSOR AND IT GAVE RISE TO A BUNCH OF NEW IDEAS IN NEW DIRECTIONS. THEN IT CREATED SKYNET AN A.I WHO WAS SET TO DESTROY HUMANITY. BUT I SAW THAT POWERFUL CHIP AND THOUGHT, WHAT THE HELL. IS THIS POSSIBLE? I SAW IT WITH MY OWN EYES AND VANCOUVER ISN'T EASY. HE ALREADY CRACKED THE CODE AND THE WORLD BENEFITS.
Quantum computer chip that powers terminators brains or CPUs. I might not get it fully but I reverse engineered the technology for my students. I had to refield test it properly to make it work for my lower SMV. He was the real mentor I had. Mentor, not a teacher. He lived that life and he can destroy Justin Wayne easily in daygame.
I was mentored in the mindsets, seeing the technologies. A guy who is brown and doesn't even look good. A guy who is a big overweight and a guy who really is the best PUA I know.
It was humbling like I might be the best daygame coach in the world so far.
But this was another level, like Seal Team 6 or something.
A lot of members were kicked out. Some remained. As long as I am helping the world in daygame I remain a member to the inner circle.
I didn't hang around PUAs, for so many years. I avoided them. But people always saw a bunch of secret PUAS with me that nobody knows.
YOU COULDN'T TELL THEY WERE PUAS, THEY WERE LIKE NINJAS, YOU NEVER KNEW THEY WERE APPROACHING.
THEY EVEN TAUGHT ME TO USE BAGS AND STUFF TO MAKE IT SEEM LIKE I AM JUST SHOPPING.
They would buy stuff and refund it later, like a women's perfume. It was brilliant.
He taught GamingElite and John Elite, not John Wayne. I told him to fuck off then over an argument but he was right. I had to apologize and beg to be allowed back in.
This isn't an exaggeration or a made-up story. This is biographical. I don't spin things. You know that.
In the future, I will show more of the inner circle. But not their faces. You will see them training me and mentoring me.
HE WANTS ME TO GIVE UP SAME DAY LAYS, AND CLOSE THE LOOP LATER IN THE DAY WITH NUMBER CLOSES. I AM ADDING INSTAGRAM TO IT. THEN I WAS UPDATED A MILLION WAYS TO USE IT. NEW IDEAS I NEVER WOULD OF THOUGHT OF. ITS ALMOST LIKE HOW COME THE WORLD HAVEN'T FIGURED IT OUT YET? THE SOLUTION IS SO EASY? 
John's Asian style of game yielded almost every single Asian and Indian student laid testimonial for the company. While the other guy only got one Asian and One Indian testimonial or student laid. While John got 99% of those testimonials. Johns system was completely different and he was totally censored, out of sight, out of mind.
ALL OF JOHNS CONTRIBUTION WAS CUT OUT OF THE VIDEO DOCUMENTARIES. IN DEEPAKS MENTAL BULLSHIT, IF YOU TAKE A FAVOR FROM THE DEVIL, HE GETS TO POSSESS YOU. Since there was no contracts signed, absolutely not.
John discards whatever doesn't work for his low SMV body type, so his game is more transferable.
The other systems were made for black people or black looking people who are tall and strong. John's daygame system was designed negative stereotypes, not positive and it transfers to every other type. Not just transfers to tall whites, blacks and Latinos, but everyone else.
MY JOHN ELITE PERSONALITY, VS MY CHARACTER
Personality-wise, John is known to be arrogant of his teaching abilities.
He comes across as a guy with a chip on his shoulders.
But he is one of the nicest guys you will meet on Skype or a boot camp.
You would wonder why he is so chilled or normal.
He really speaks his mind and doesn't hold back. He is a guy who rather tells you the truth, than to comfort your ego.
He doesn't care about putting on a mask for marketing purposes.
He thinks brutal honesty is the best policy.
He is all about results.
He has no theories, but all field-tested data.
He is tough as nails as Gordon Ramsay. If you do what he says, he will be nice. If you don't, he will yell at you.
Sometimes people find his personality unrelatable. But rest assured he is the best dating coach statistically in the world.
Bruce Lee, for example, was arrogant and narcissistic. But he was able to change the world and challenge every existing idea forcing an MMA. Or a hybrid system. John is doing the same thing with the daygame world. The system he teaches absorbs what is useful, discards what is not, add uniquely what is his own.
WHEN JOHN WAS ON YOUTUBE LIVE PEOPLE KNEW JOHN WAS A TOUGH GUY BUT A CARING PERSON TOO. FOR THE FIRST TIME EVER, THEY SAW HIM AS HUMAN WHO HAD A GOOD CHARACTER, BAD PERSONALITY AND BELIEVED IN TOUGH LOVE. 
John believed if comfort got the job done then other mercenary marketer famous daygame companies would of got the job done. But comfort doesn't get the job done, but tough love does.
ENTIRE PLAYLIST HERE OF YOUTUBE LIVE
I have given up everything in my life to help my fellow Asians. I studied and field tested, split tested every daygame system for 18 years.
I taught for free for my first year making no money just to field test every style on every combination of students. So it wasn't my opinions as facts. I had to spend years perfecting my fashion because I didn't have height or muscles like other dating coaches.
I have closed the doors to any other job in the world just to do this to help Asian men not be softly genocided in the next 100 years.
Where most people by then will be half Asian and half white. Where the mother is a self-hating Asian women.
John Elite only ever worked in 2 jobs in his life and one is a dating coach. The other was working in a coffee shop while he was secretly a dating coach because a student said John try a real job, dating coach isn't a real job.
John doesn't work in any other job or side hustles, he is a dating coach only.
I can definitely help you get laid as a negative stereotype minority, learn how to same day lay, and learn to get a fuck buddy or girlfriend!
---
BACK TO GAMINGELITE OR JOHN ELITE
John Elite knows that race matters and so does height, it adds to the value. Game is a smaller part, but money can raise a bit of value.
Most of the dating coaches focus on game, but they have higher SMV or race advantage. If you look black, but are Indian, you automatically get the same SMV as a tall black person, even if you tell her you are Indian.
If you are Indian but look Latino like my old roommate, you are still treated as Latino. Same with my Latino student who looks white changing his hair color, you are treated as white. Race matters.
But game matters too, not as much as social skills or social calibrations found in my program elite 30. Or emotions or emotional intelligence. They all contribute to the game.
John Elite learned a lot from his old experiences and will be moving on. He has updated his old mindset which was correct, with new tactics.
John feels the company he worked for is a tumor and is tainted. He has a bigger mission of helping Asian men or 1.5 billion Asian men in the future to get to their higher self in dating
He wishes people there well and he just wants peace forever.
I was put on this earth for a reason. That is to help you guys. John Elite continues to get students laid to this very day with his own style of coaching and unique transferable style of game. Over the summer he got more than 50 laid testimonials since most weren't pulls. Johns game is expanding and sharper than ever without the old name to limit his thinking or paradigm.
[
JOHN ELITE QUIT OVER A YEAR AGO. BUT IT IS ALL ABOUT FAME, WORSHIPPING AND MONEY. WHEN JOHN KNEW THE FOCUS WAS TO MAKE A LOT OF MONEY AND NOTHING ELSE, JOHN QUIT BECAUSE HE CARES ABOUT HIS FELLOW ASIAN MEN AND MINORITIES
John Elite still gets non stop testimonials almost daily or many a week. It is a pattern that still continues to happen even with less students.
John Elite makes 3-5X as much money than in the past. His mission isn't money first and fame. John Elites goal is to solve the super problems in the dating world, in exchange for money by giving people value. Super problems are unsolvable problems only someone like John can solve. Just as he did with Elite 30: From Hardcase To Hero.
John already solved the fashion problem for daygame and approach anxiety where students overcomes it in a hour. Which is the fastest which normall takes months or weeks. On his bootcamp usual takes a few hours. John is always developing new technologies.
John left after money was the only priority and not helping minorities. That part didn't even come up. He isn't into narcissism and fame and thinks the company lost its way.
John Elite doesn't post as many infields because he wants the focus to be on the students, not the coaches. Results only.
John Elite dreamed he was going to be the worlds best daygame coach that happened. Even being a Wayne. But since he believes that name is tainted.
In the future John Elite is going to translate his game to 12 languages like Jesus did with
Then live in 4 mansions, he will eventually own the Playboy mansion for $200 million.
Then again you might laugh but John Elite is currently living in a mansion right now.
WHATEVER HE ENVISIONS, IT HAPPENS. He believes his goal of helping 1.5 billion Asian men will happen. He will solve all their dating problems for the world because no one is smart enough or mentally tough enough besides John Elite.
FROM JOHN WAYNE TO JOHN ELITE
JOHN REJOINED IN THE INNER CIRCLE SECRET SOCIETY OF PLAYERS IN VANCOUVER. HE WAS WELCOMED BACK AFTER HE ADMITTED HIS MENTOR WAS RIGHT ALL ALONG.
JOHN WAS RETRAINED IN NEW CONCEPTS, MORE LIFESTYLE GAME, PERSONALITY AND UPDATED SETUP GAME WHICH WAS TAUGHT MANY YEARS AGO TO GAMINGELITE WHO WAS STUBBORN AND DISMISSED IT BECAUSE HE JUST WANTED TO FOCUS ON DAYGAME.
John Always discarded golden nuggets and gets rid of the dirt.
But John Realized it wasn't dirt he got rid of but golden nuggets. In fact they work even better today since John has a bigger audience. John went back to his old game putting back most of the golden nuggets and added a few gold coins.
Got rid of the rest of the dirt from the Gold since John realized he learned a lot of dirt that wasn't compatible for Asians. The only Asian the company got laid was a half Spanish and half Filipino guy. Who wasn't a full Asian.
Out of all their testimonials, John Elite was the only pure Asian who got results and maybe the old companies greatest achievement. Without realizing John already had a lot more golden nuggets in his game and those golden nuggets 100 of them from every dating coach was what made it work and helps John gets so many laid testimonials.
John got rid of any bits of romance where this concept started with Justin Wayne who was a preselected black guy which women are into. He got rid of any romantic sexual.
THAT WAS NOT A GOLD BAR BUT A BIG PIECE OF DIRT DESIGNED FOR POSITIVE STEREOTYPE MINORITIES.
Since Asian men aren't in the boyfriend/girlfriendzone. They can't even use a 1% of romance or they get auto rejected.
John focused on the husband material frame instead dressing richer and whiter. Knowing that Asian men will never fit in as boyfriend material. Most white women will have about 10 boyfriends before they get married. Asian men needs to be the husband material frame otherwise they are screwed if not in California or Toronto.
Even in Eastern Europe Asian men are so low value it takes a lot of approaches for even John's students if they are short, even if good looking.
The results or achievement was John now gets even more students laid than before, not just pulls. He has passed the 400+ mark easily over the summer.
In the past John had 10 testimonials a week, lays and pulls because John had a bigger audience.
NOW IT IS ALMOST ALL LAYS AND EVEN WITH LESS STUDENTS JOHN HAS MORE RESULTS AND MORE SPECTACULAR RESULTS. Almost one per day though the entire summer till fall.
John is no longer as narcissistic as before and has even more student results today. He ranks number one in the entire world as a daygame coach for the amount of students laid from his training.
John once thought he was cursed in university. Now knows this was gods plan. John had to suffer so future Asian generations doesn't have to and have the tools to over throw the daygame industry that has constantly screwed Asian men over with RSD shit or feel good high vibrational energy self-development spam approaching nonsense. Or Asian companies that doesn't get Asian men laid in daygame. Just profits from their misery and foist them to night game.
John still has a lot to do and will not stop until he sees it all turn around for Asian men around the entire world for daygame.
JOHN BELIEVES HE NOW POSSESSES ALL THE GOLDEN NUGGETS IN THE WORLD AND HAS CRACKED THE CODE FOR ALL ASIAN MEN. THEY JUST HAVE TO TRAIN WITH JOHN AND PUT THEIR EGO ASIDE AND STOP BEING OFFENDED. JOHN HAS ALREADY FIELD TESTED EVERY MAJOR SYSTEM.
IT DOESN'T MAKE SENSE TO TRAIN ANYWHERE ELSE, THERE IS ONLY ONE BEST DAYGAME COACH IN THE WORLD. YOU TRAINED WITH THE REST, NOW TRAIN WITH THE BEST
TODAY JOHN ELITE IS THE ONLY DATING COACH WHO HAS ALL THE GOLDEN NUGGETS OF THE GAME, ALL THE GOLD COINS AND ALL THE GOLD BARS. ALL THE DIRT SURROUNDING IT IS GONE. I KNOW WHAT WORKS AND WHAT DOESN'T WORK. DOES IT MAKE SENSE TO TRAIN ANYWHERE ELSE OR IS THIS THE ONLY PLACE SINCE I HAVE THE MOST STUDENT RESULTS IN THE WORLD? 
Most dating coaches has only one or two golden nuggets. The rare few has a few gold coins. But testimonials wise, no one had all the gold bars, coins and nuggets in their game combined. Just as Bruce Lee tried to combine everything together.
2020, COVID 19 HIT, ONLY JOHN ELITES DAYGAME SYSTEM GOT STUDENT RESULTS FOR PRODUCTS AND SERVICES. 2021, THE STUDENT RESULTS ARE EVEN HIGHER. 2022 STUDENTS ARE GETING LAID IN 1, 3, 5, 6 APPROACHES
During early 2021, a few of John Elite students got a girlfriend like this Asian guy here that didn't make a video testimonial…
It turns out only social skills worked, so Elite 30 was the common denominator getting all the student results… since they used less of the Elite Playbook and more Elite 30
Month after month nobody else got a single laid testimonial or proof. The best they had is someone speaking in front of a camera with no proof whatsoever as if they were bought on Fiverr. They don't even know what the coach said as if they were trying to remember from a list.
Also, their old products they made… no other daygame coach got any students laid whatsoever except John Elite…
Factually only one daygame system works so far.. Covid 19 which is a stress test, putting the world in the worst situation showed what works and doesn't.
By working I don't mean a 3rd world country like Eastern Europe like Ukraine. Or Mexico or Brazil where the coach might have a money/higher status foreigner advantage. Which isn't transferable to students in the west…
THROUGHOUT THE ENTIRE 2021. I HAD MORE DAYGAME LAID TESTIMONIALS THAN EVERY OTHER DAYGAME COACH IN THE WORLD COMBINED…
It was excessive, I couldn't stop posting video testimonials even across delta variant, onmicron.
Other dating coaches had 0 laid testimonials for their daygame product, then funneled students into their bootcamps instead this year.
2022, JOHN ELITE IS ALREADY GETTING LAID TESTIMONIALS FOR DAYGAME FOR ONMICRON
JOHN ELITE IS ALSO A BIG FAN OF DAN PENA AND MET HIM ASKING HOW TO TAKE DOWN RSD
John Elite already started a second Youtube channel to help Asian men stop going to RSD and getting screwed. They don't even know why they are screwed. But RSD is an unethnical marketing company who is just to make money and money only. Not daygame results.
John Elite consulted with the highest performance coach for wealth creation in the entire world. As John Elite is daygame coach with the most student results in the world. Both of them have the same mindsets by default if you are number 1 at anything in the world.
Did you notice both of them talk identically from day 1?
JOHN ELITE FLEW TO CALIFORNIA JUST TO OBTAIN ONE STRATEGY ON HOW TO TAKE DOWN RSD AND HE USES THIS EXACT STRATEGY FOR HIS BUSINESS AND ENEMIES TODAY. RSD IS HURTING ASIAN MINORITIES BY GIVING THEM BAD DATING ADVICE.
JOHN ELITE DOESN'T LIKE JASON CAPITAL. HIS ROOMATE IS A FAN. JOHN ELITE IS A DAN PENA FAN. Jason Capital doesn't like John Either, won't shake each others hands. Also, my application to learn public speaking from him was rejected.
Let's see what happens next. John Elite will always complete his mission. His game has expanded after he was allowed back into the Vancouver Players' inner circle secret society of the world's best daygamer in the hardest city in the world.
JOHN ELITE ALSO DRINKS MORE ENERGY DRINKS A DAY LIKE 10 AND CAN EAT 10 PLATES OF FOOD IN ALL YOU CAN EAT. ALSO THE number OF JUNK FOODS HE EATS A DAY CAN KILL A NORMAL PERSON.  JOHN ELITE DOESN'T AGE AND IS IMMUNE TO JUNK FOOD, EXTREMELY COLD WEATHER OR HOT. JOHN ELITE IS ALMOST LIKE A TERMINATOR, PRACTICALLY INDESTRUCTIBLE. HE IS ALSO A REALLY GOOD COOK.
John Elite also took Israeli Krav Maga, a military martial art for 5 years and can disarm weapons like guns, knives and baseball bats, do hostage rescue, third party protection.
John Elite got injured as he took Brazilian Ju Jitsu and MMA on the side cross training.
He got a thumb to the eye, damaging his left eye where it looked like a lighting strike every single time he looks left flashing.
Over time it healed, but that was the end of John Elites fighting career. But he took the Krav Maga training to his daygame system. Didn't regret the training at all since it was survival training John Elite believes the Asians needs… survival.
John believes Asian men are the next Jews and they are the next ones on the chopping block. The ones who are softly genocided by Asian women 54% are marrying white guys and 1/5 Asian men won't survive.
He believes the very people who trained him the Jews are responsible for making Asian men look like betas in Hollywood.
John treats Asians like the Jewish people where they must be protected at all cost. Where innovative fighting styles and realistic tactics are the only way to survive.
Most of Johns mindset is like Krav Maga concepts. He basically turned his daygame system and the way he taught it exactly like Krav Maga training camp. John doesn't believe in abundance, thriving or any of those mindsets. The only survival, kill or be killed metaphorically, the survival of his race.
JOHN ELITE'S GRANDFATHER ALSO STARTED ALL OF CHINESE TELEVISION AND RADIO TO HELP CHINESE PEOPLE. 
GONE BUT NEVER FOGOTTEN. HE HAD A VISION THAT CHINESE PEOPLE SHOULD BE ABLE TO GET NEWS, MEDIA, RADIO LIKE CAUCASIAN TELEVISION. HE WAS AN ENTREPRENEUR. HE DIDN'T KNOW WHAT HE WAS DOING. BUT HE HAD A GOOD INTENTIONS. HE WASN'T TOUGH LIKE ME BUT WAS BOUGHT OUT FOR A FEW HUNDRED GRAND FOR THE T.V STATION. WHICH IS THE MOST FAMOUS  ONE YOU SEE TODAY IF YOU ARE IN VANCOUVER, TORONTO OR ANY PROVINCES THAT HAD CHINESE T.V. WE HAVE DONE MORE FROM CHINESE PEOPLE THAN ABCS OF ATTRACTION OR EVEN QUEEFING CANSANOVA WHO JUST TAKES YOUR MONEY. I ALSO PUT A FUCKING DENT IN THE DAYGAME UNIVERSE.
They say in the first 7 years of your life you absorb your environment as I lived with my grandparents for many years.
THIS MIGHT EXPLAIN WHY JOHN ELITE IS OBSESSED WITH HELPING THE ASIANS. HIS ENTIRE BLOODLINE OR FAMILY DID…
He got bought out, sold the company, to a famous Chinese television studio today.
They forgot his name, not even written in the Wiki as if he was like Niccolo Tesla  Edison wanting to help people out.
But bought out by the Edison, who took all the credit for it.
MY GREAT GREAT GREAT GRANDFATHER WAS AN ADVISOR TO A CHINESE KING. 
Yes my bloodline served royalty in China.
But the king was paranoid wanted him killed, so he fled from the North to the west.
I'm genetically northern Chinese, southern Chinese are shorter since my mom is southern Chinese from Hong Kong.
I'm a hybrid, but not as tall as those Northern Chinese types.
John Elite has never travelled to China or Asia. Just the United States and all over Europe.
JOHN ELITE IS A PRETTY GOOD COOK. HE ONLY DISCOVERED THIS COOKING ABILITY LATER IN LIFE. AS HE WANTED TO COOK FRIED CHICKEN. 
His grandmother is an excellent cook. Maybe its epigenetics.
John Elite is also related to black people, Latinos, white people for his genetics.
His grandfathers brother married a black women. His cousins are half black half Chinese living in Toronto.
His other cousins are half Chinese, half black since my other Uncle is black
My other cousins are half white, half chinese since my aunt is a tall blonde women
My other uncle is Spanish or Latino from South America.
THAT'S WHY JOHN ELITE IS SO COMFORTABLE WITH ALL THE ETHNICITIES. HE GREW UP WITH THEM.
John Elite's students are diverse, all ethnicities.
John Elite has a different training for all of them since their circumstances are different.
Treats them like family.
SOMETIMES YOU CAN SEE JOHN ELITE HOLDING KNIVES, AMONG OTHER THINGS
John Elites dad used to have a lot of guns before selling it. Also a big knife collection, did martial arts.
This influenced John Elite to collect a lot of interesting items which he won't talk about in detail.
Maybe its epigenetics meaning whatever habits you work on, will be passed onto the next generation like a light switch on or off.
-John  Elite
.
Introducing… "Elite 30: From Hardcase To Hero, Elite Playbook, the Elite bootcamp"
"Elite 30: From Hardcase To Hero,
Elite Playbook,
the Elite bootcamp" Helps You:
Get laid faster even if you aren't a positive stereotype …
Get laid even if you are a minority…
Get laid even if you aren't tall…
Get laid even if you have been using other peoples daygame system and needs repair work…
… and much, MUCH more!
And best of all… you'll start seeing results with "Elite 30: From Hardcase To Hero, Elite Playbook, the Elite bootcamp" in 3 days if an easy case, 3 weeks if a normal case, 6 months if a hardcase, 1 year if an impossible case and it costs ..
So again, if you're a minority who wants get laid more though daygame, understand this:
You won't get laid with other daygame products anyways and mine is the only products that actually works …
97% of my bootcamp students pull or gets laid, either when doing their prebootcamp training, during or even after. …
80% of my students pulls a women home and 72% gets laid…
Act Now – Before It's Too Late!
Get Onboard With Elite 30: From Hardcase To Hero, Elite Playbook, the Elite bootcamp Now!
Here's Exactly What You're Going To Get With Elite 30: From Hardcase To Hero, Elite Playbook, the Elite bootcamp
The Coaching, Products, Services Guide for Daygamers ($600 Value)
This online course with Skype coaching holds the secret to Learn the social skills and tactical game skills together in 2 products that comes in a bundle which helps you get laid faster learning the fundementals of the game and building on top of it and take complete control of your dating life once and for all instead of getting auto rejected non stop spam approaching.
The Elite Bootcamp ($2400 USD Value)
This 10 hour a day bootcamp for daygamers makes it simple for you to get laid more which helps you same day lay and have complete freedom of your dating life, or finally get over the sticking points or weaknesses doing a live one on one training.
My Online services (thousands of dollars worth or training Value)
This online training programs gives you the secret to focus on specific skills or challenges of your daygame weaknesses that a product itself can't offer you which lets you get laid more beyond just the products and fix your weaknesses on a one on one level online outside of a bootcamp.
IF YOU LIKE WHAT I DO, TAKE A BOOTCAMP WITH ME
.
.
OR
.
.
OR
IF YOU ARE NOT READY, BUT YOU WANT TO EXPERIENCE AND GET LAID WITH SOME OF MY ONLINE PRODUCTS, GET A PRODUCT AND SEE FOR YOURSELF. WHEN YOU GET LAID, OR PULL GIRLS HOME, YOU WILL WANT MORE COACHING LIKE A BOOTCAMP
.
OR
[SEO purposes to get on the search engine, ignore this.]
Vancouver Dating Coach, PUA Dating Coach, Dating coach Vancouver, Daygame, Vancouver Daygame Bootcamp, John Wayne, Wayne Dating Lifestyle, Wayne Dating, Justin Wayne, Deepak Wayne. Absolute Ability, Tony D, Tony D Newton, RSD Nation Vancouver, RSD, Eddy Baller, Jan, JanLifestyle, Jan Lifestyle, Jan Huang, Scam Lifestyle, Jan, review, testimonials, no testimonials, UBC, fraud, pick up artist. Vancouver Daygame, Daygame, PUA, psychopath, con artist, meetup group, meet up, tips, MYPUREGAME review, MYPUREGAME, Social Freedom Tribe, Van city buzz,