NOTICE HOW EVERYTHING FITS INTO EVOLUTIONARY PSYCHOLOGY. DIFFERENT TIMES BUT THE SAME HARDWARE.
Its actually pretty similar, since mental illnesses were around for thousands if not millions of years. They all have an evolutionary advantage.
The main reason is preselection.
The guys with replication value, protector status, preselection.
If other women are into him, for the tribe, then other women will automatically be into him.
Although it is popular that some dating coaches uses preselection in pictures on social media, in the past we didn't have that luxury.
But that is one of the ways to utilize it. My Pakistani mentor doesn't even use social media, but he behaves like he is preselected, which is true.
Women are just into him, throws themselves on him.
WHY DO WOMEN SOMETIMES LET THE SUVIVAL VALUE GUY RAISE HER BABY AS SHE TELLS HIM, THAT IT IS HIS, BUT IT REALLY BELONGS TO SOMEONE ELSE?
It is the same reason she cheats and cucks him, evolutionary psychology.
Notice how women are into the fuck boys, the players, the high value naturals…
He is like a side dick.
If you got her as a PUA, in a lot of cases, she will cheat on you.
Since she knows you can get other women.
Genetically for procreation, it is a better strategy for millions of years, a very selfish strategy on the womens part.
That is female nature, they can't change it.
This is also why some tall negros has multiple girlfriends, it is purely a protector status, preselection thing.
None of this really has to do with skills.
But neatherhal gene.
But it doesn't mean white women will always marry these types, like 13% will.
BLACK MEN DO CHEAT MORE THAN OTHER ETHNICITIES. PROTECTOR STATUS. (I'M THROWING ALL THESE DIFFERENT STATS AT YOU SO YOU GET AN OVERALL IDEA OF THE BATTLEFIELD)
A number of other demographic factors also speak volumes about the infidelity rates. For example, when it comes to race, black adults are more likely to cheat than all other races.

Indeed, the Institute for Family Studies confirms that about 22% of the ever-married blacks admitted having cheated on their spouse, compared to 16% of whites and 13% of Hispanics.

The rate is higher among black men, 28% of whom reported to have had sex with someone other than their spouse. By comparison, only 20% of the white men and 16% of the Hispanic men cheated on their spouse while married.
While this might not fit into the article, it is an interesting observation that black SMV is that high. Protector status, preselection.
SURVIVAL VALUE, MONEY IN THE HOUSEHOLD AFFECTS CHEATING. NOT SURE WHAT THIS EXACTLY MEAN BUT SURIVAL VALUE IS A REAL THING NOT TO BE DISMISSED
Indeed, in a study published by the American Sociological Association, researcher Christin L. Munsch showed that among the heterosexual couples aged 18 to 32, spouses who earn significantly less than their partner have higher chances of committing adultery.
The gender gap is significant, though. According to the study, 15% of the men who were economically dependent on their wives committed adultery, while only 5% of the dependent women cheated on their husbands.
Several surveys also investigated what are the main causes of cheating. The reasons are very different between men and women, with 44% of men declaring they have been cheating on their partner because they wanted more sex. Another 40% of men cheated because they were looking for more sexual variety.

In other words, men are more likely to cheat because they are not sexually satisfied in their current relationship.

Women, on the other hand, are often looking for more emotional attention, with 40% of the respondents claiming this as their reason for cheating.

Another 33% declared cheating on their partner to find out if they were still desirable, while 11% of the interviewed women cheated as a form of revenge.
WHY DO SOME WOMEN NEVER CHEAT? BUT THEY GET CHEATED ON? FOR 46% OF WOMEN
Some women who are more into relationships, as she dates 10 guys, marries the tallest guy there is out of the bunch before she loses her looks.
Of course this is just a generalization but you get the point…
For her cheating in her mind means that she will risk the relationship.
But since she is needy, the guy will cheat.
He will be unsatisfied, once he gets her.
These types of women will ask you if you want to get married one day.
They always ask the fucking question before she even wants to waste time with you.
That's their goal, marriage.
Even women encourage guys to simp on them a bit since it shows survival value.
Obviously as PUAS we often don't if it isn't a relationship
SOMETIMES WOMEN LETS YOU CHEAT IF YOU ARE PRESELECTED, SINCE IT IS THE ONLY WAY TO KEEP YOU IN THE RELATIONSHIP
THE REASON WHY PEOPLE CHEAT FOR MARRIAGE IS EVOLUTIONARY PSYCHOLOGY DOESN'T SUPPORT MARRIAGE
You can see it in these statistics. It was the first set of statistics that showed up on google. THIS IS MORE OF A LIFETIME STATISTIC. AS MORE TIME GOES ON, PEOPLE ARE MORE LIKELY TO CHEAT, UNLESS YOUR NAME IS WILL SMITH…
MEN CHEAT MORE THAN WOMEN, BUT WITH ONLINE DATING, WOMEN ARE KIND OF CATCHING UP
Infidelity Statistics: Cheating Men vs. Cheating Women
The easiest way to figure out if men cheat more often than women is to look at current infidelity statistics, courtesy of the Journal of Marital and Family Therapy:
57% of men overall admit to committing infidelity at some point in their lives
54% of women overall admit to committing infidelity in one or more of their relationships
22% of married men admit to having an affair at least once during their marriages
14% of married women admit to having an affair at least once during their marriages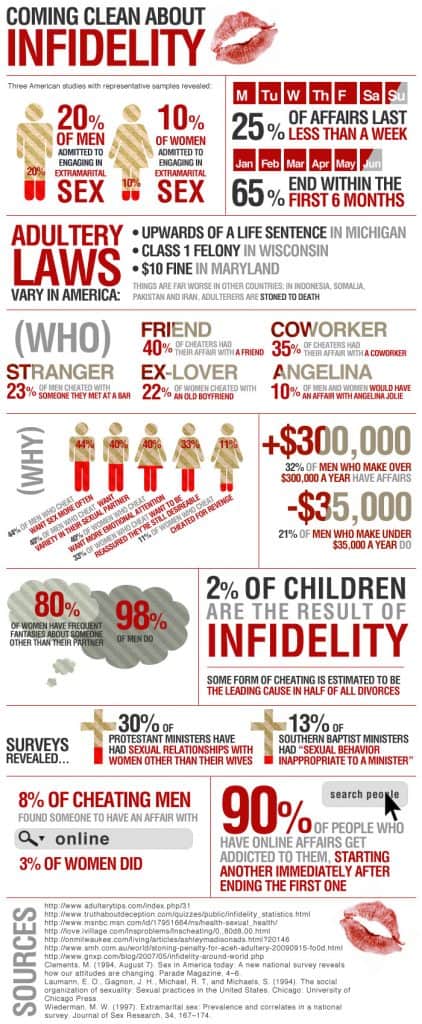 According to the infidelity statistics, about 40% of unmarried relationships and 25% of marriages see at least one incident of infidelity.
An issue of Marriage and Divorce journal also stated that 70% of all Americans engage in some kind of affair sometime during their marital life.
ANOTHER STUDY
More than 90 percent of Americans believe infidelity is unacceptable, yet 30 to 40 percent of people engage in it
IMO, MARRIAGE SEEMS KIND OF WELL… UNNATURAL.
Nature always wins.
Evolutionary psychology never changes, even if the times change with more online dating.
The hardware is always the same.
Just as mental illnesses has always been around… just as you can't deny evolutionary psychology.
IT EXPLAINS 99% OF PUA. EVEN IF PEOPLE TRIES TO POKE HOLES IN THE THEORIES, THERE IS NO REAL COUNTER ARGUEMENT AS VALUE DENIERS TO MARKET TO YOU
Space aliens, wouldn't understand our concepts of morality, cheating, religion or any of that. They will see us as dumb squrriels which will bore them. If we see it instead from dissastification from relationships, all that shit, see it from an evolutionary psychology perspective, then it makes no sense outside of evolutionary psychology as the underlying cause
Like if women has survival value, great now women looks more for replication value, height, race preselection, etc.
The more things change, the more things stay the same.
Times change, but the hardware as human beings doesn't.
MAYBE RED PILL DOESN'T HAVE ALL OF THE ANSWERS… 
If they written a book on red pill like the rationale male or some shit… guess what, they only have 2 scientific studies in that book…
IT IS A VERY UNSCIENTIFIC THING THAT DOESN'T SUPPORT EVOLUTIONARY PSYCHOLOGY OR PSYCHOLOGICAL STUDIES…
Just supports sociopaths, delusions, taking massive action… Yet blue pill, social skills, tribes, all of that is discarded.
The reason I have the most daygame laid testimonials in the world than every daygame coach in the world combined is simple… I am not delusional, nor am I trying to market to you.
I'm telling you the truth of my student results, which in itself is a scientific study.
The results mirrors other scientfic studies.
So dismiss at your own imperil.
If you dismiss you can't adapt, just take massive action, catch the Corona Virus, unlike my students…
You can't go around high fiving now.
Social skills in the tribal days, social calibrations, body language
Not game, will help
Same hardware.
Same shit as cheating…
DON'T FIGHT EVOLUTIONARY PSYCHOLOGY, IT IS LIKE SURFING AGAINST THE WAVES… RATHER USE IT TO YOUR ADVANTAGE OR TO ADAPT…
If you go against the waves, which is evolutionary psychology, you will lose
ALSO THIS IS THE 1000TH'S BLOG POST
I just passed out all day, woke up 7:13 pm, for those asking me for a Skype. Didn't return to your messages. Stayed awake for 3 hours.
Maybe I can stay away for 5 hours this time.
I felt a bit better after a few days of sleep, obviously tired, but still maybe able to function again…
-John Elite