THEY ARE 100% SURE XYZ IS THE REASON WOMEN REJECTS THEM, BUT IN REALITY THEY HAVEN'T MADE THE SCORE OF 20/35 IN MANY CATEGORIES
Honestly that is only like 1/4 of the reason why they were rejected, but they ignore the other 75%.
Everyone has insecurities, even dating coaches…
except tall white guys who are good looking going for women below their looks scale.
Most tall white caveman doesn't know what insecurities are,
or how minorities feels, they can't empathize
However, of course you have black looking guys who also are positive stereotypes that also says white people are tall good looking, but in reality the black SMV is like a bowling ball that knocks out all the white pins.
NEGROS OR NEGRO LOOKING WILL ALWAYS KNOCK THE SHIT OUT OF WHITE PEOPLE, SINCE NEGROS CAN FLIRT OR TOUCH WHICH WHITE MEN DOESN'T.
Lets be realistic here 87% of white women are into them, gets hot and bothered with jungle fever for a university study.
So their insecurities are irrelevant.
The particular insecurity, weather it is height, your nose, or hair, or some part is a big part of the problem maybe 1/4 or 1/3, sure.
BUT IT ISN'T THE ENTIRE PROBLEM. MAYBE MOST WOMEN DOESN'T EVEN NOTICE. OR SHE WON'T NOTICE IT OVER YOUR HUNCH, INSECURE VIBE
But focusing on it, is like compound effect. You start to see it everywhere.
This is called the RAS or reticular activating system.
Like if you think of Asian women, white guys, you start to see it everywhere, it becomes your focus.
In Vancouver this is obviously a real thing.
Trust me, it isn't a fun thing to see when you see darwinism or evolutionary psychology or hypergamy demonstrated in front you like 5 couples in a row for one street.
In fact that can be bad for your inner game especially when the women talks louder to get your attention in a mocking way.
Until I say hypergamy out loud then she shuts the fuck up or the creepy white guy won't fight back
So far not a single one of these tall white creepy guys fought me yet.
I've said this over 1000 times.
It helps as a nonviolent resistance.
You could date white women in front of them, but these Asian women sabotages you when you are waiting in line at a bar, or coffee place.
Your drinks will always 100% of the time be sabotaged. Seriously. Or they make you wait.
They don't like it. 
But more on the weekends than the weekdays.
Or more in certain areas of B.C, not all of it.
Insecurities erodes your confidence, lowers your self esteem to the point where you lose belief in yourself.
After a while, you start to have this counter voice in your head or counter feeling that cockblocks you.
A LOT THIS STARTS WITH YOUR PARENTS, HOW THEY MENTALLY ABUSE YOU
I always ask the student for PUAS, who is the fucked up one. The mother or the father… If it is both, that usually is a red flag, its a genetic issue, they will be tougher to teach. Self esteem is created in the first 7 years of life. So your starting point starts and ends there
When it is the mother that is the crazy one, where she humiliates your father.
Nothing is sadder than when a women smacks your dad upside the head as he keeps his head down getting humiliated not looking like a man
You will put women on the pedestal.
You will talk 10x more beta.
If the father is the crazy one, you will be more alpha,
but you will steam roll over women
Treat them like shit, get them drunk, bang them, whatever you can to manipulate them
If it is both, you will be aggressive in general for your personality.
You don't put women on the pedestal,
but you will have an aggressive personality.
You might have more mental illnesses to deal with.
YOU FIGHT THE DEMON WITHIN YOURSELF, IT IS NOT YOU. YOU WILL HEAR AN INNER VOICE OR INNER CRITIC
First of all sometimes my students will say that voice is them. My mind thinks this, or that. First of all it isn't you. It is a manifestation of low self esteem, your parents voice like your inner critic
When you have lower self esteem, you have higher the ego.
Higher the ego, lower self esteem.
When you have that you will also start to blame yourself more.
David Goggins fought that voice on a daily basis, created a lot of good methods of dealing with your inner cockblock, your inner bitch or coward.
He challenges it on a daily basis.
My students gives the voice a name to separate that voice within themselves
I tell my students to write it out.
One student had 400 of that voice a day.
He quit writing it out half way. So it makes 400.
The most my other student have is 100X a day.
It doesn't have to be a voice per se, it can also be a feeling too.
Some emotional autistic students will have a feeling of narcissism instead when I tell them they are on the right track.
Usually the low self esteem, some of the students are autistic.
They get a triple blast of narcissism, then are unteachable for 2 hours, since it gets to their head.
Or they have a feeling of being offended
I also make the students call themselves out in front of the mirror.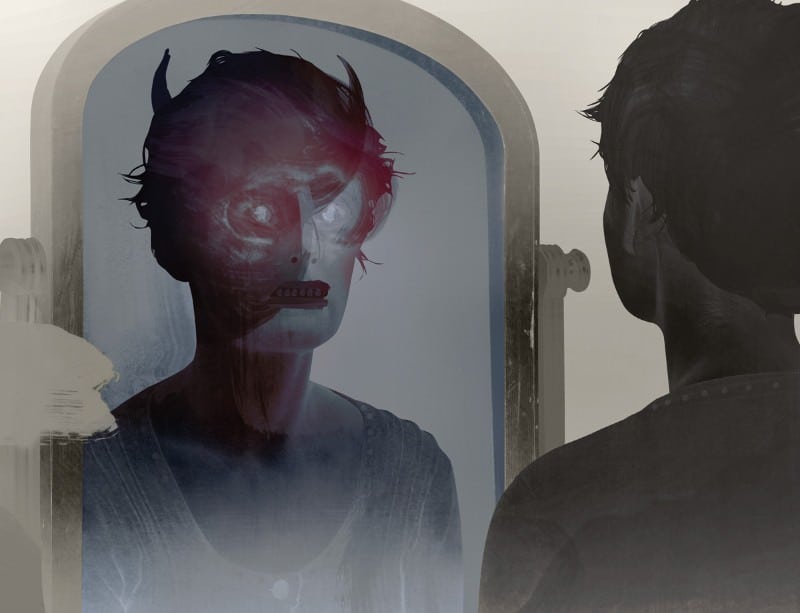 The accountability mirror, a David Goggins concept. If they don't do it, I will call them out instead.
I will force them to tell the truth since they make excuses and lie to themselves.
If you can't change it, well I know some of you can afford surgery. But if you can't change it, then accept it.
Surgery might not make a difference.
Its still the same mindset, or the same cancer that grew.
I'm not a value denier, but I think some of you overstate your insecurities.
It might not be it.
There is a 20/35 system that might be more important to focus on.
Like having a good instagram.
Or working on your body language,
or autism reduction, with cortisol,
or fighting your inner demon.
I'm not going to be a red pilled value denier.
At the same time as a daygame coach with the most student results in the world.
I do know your insecurities is only 1/3 or 1/4 of the problem.
ELITE 30: FROM HARDCASE TO HERO ADVANTAGE AS THE OTHER PIECES YOU NEVER DEVELOPED AS PART OF THE SOLUTION OR A FASHION CHANGE, OR EMOTIONAL CONTROL
A NEWER BUT OLDER STUDENT
I have a short student who believes it is only his height.
I will get him a muscle suit and the tallest elevator shoes he can get so he reaches my height of 5'7.
Then show him it wasn't even the protector status.
BUT HIS INSECURITIES TURNS WOMEN OFF LIKE A DEAD FISH VIBE. LIKE A ROTTEN CORPSE OF A FISH, IT STINKS
Of course he is fucking short at 5'4
But he is also too ready to take the short cut.
1000 approaches or rejections isn't shit. I been though 60,000 before.
I do know it is definitely not all game, SMV or value matters a lot
Most people who has these insecurities, are so mentally fucked, it shows up in their body language.
This corrects that.
Since evolutionary psychology women looks for more alpha confident men.
You will finally get your confidence back since confidence is the absence of doubt.
Your belief in yourself.
Competence equals confidence.
Competence equals confidence.
That's why practicing, rehearsing, getting it right first then you go out there and win.
It is like practicing before you do public speaking, or a MMA fight.
Most of the tall caveman dating coaches will tell you just spam approach.
Their SMV will eventually close, the don't need game.
There is just a numerical number, since these guys are delused sociopaths, they believe it is their game, value deniers.
You also get a skype with Elite 30 now
I can teach you some of the strategies to raise your self esteem for your inner game.
Also, deal with your insecurities
THE TRUTH IS WHEN I APPROACH, I DON'T TELL OTHERS. I FORGET I AM EVEN ASIAN. MY INSECURITIES DISAPPEARS LIKE A NINJA GOING ON HIS MISSION.
LET ME TEACH YOU HOW
You get to work with the best daygame coach in the world for student results
I am well verse in psychology, psychiatry, neuroscience as you know. I spent most of my life studying the topic to an obsessive level so I can apply it for you
I use REBT for my bootcamp students, rational emotive behavior therapy. It can help you too. Unless you are really really, really fucked up
The skypes helps a lot more than just the products alone. Although they do work by themselves for most. Some people needs me pointing out what to focus on
Let me help you fight your inner demons. There is a way to treat the problem.
This is not some RSD inner game shit, this is based on psychology.
THIS IS MY FINAL ANSWER. 20/35, GET OVER THAT LINE. SO YOU BIG NOSE, OR SHORT HEIGHT MIGHT NOT MAKE AS MUCH OF A DIFFERENCE. THAN MAYBE BLUE CONTACT LENSES AND LIGHTENING YOUR HAIR TO LOOK MORE WHITE, LIKE LIGHT BROWN…
I've never been able to break this theory, this number is universal for every race.
20/35.
Your insecurities even if you fixed it, might not be enough
IF YOU TAKE THIS CATEGORY, OUT OF 10 POINTS, EACH ARE 2.5 POINTS.
NOW YOU REALIZED, IF THERE IS AUTISM, YOU WILL HAVE TO GET THAT UNDER CONTROL FOR EMOTIONAL INTELLEGENCE, FIX YOUR BODY LANGUAGE, SOCIALIZE,  BEFORE YOU FOCUS ON GAME..
GAME ITSELF, IS JUST 2.5, THAT'S WHY THEY TALK ABOUT EMOTIONS OR VIBE IT. JUST ENOUGH TO GET OVER THAT LINE.
IF YOUR SHORT, YOU NEED T0 10X YOUR SOCIAL SKILLS, SOCIAL CALIBRATIONS, YOU WILL GET 5/10 FOR THIS CATEGORY ALREADY
THEIR GAME OR TACTICS AREN'T ENOUGH TO TRANSFER TO YOU
-John Elite