TODAY MARKS THE 75TH ANIVERSARY FOR THIS DARK TETRAD SOCIOPATH POWER HUNGRY DICTATOR. WHICH IS RELEVANT TO THIS POST
He took his own life on April 30th, 1945

Comorbidity is multiple mental illnesses, what are all the PUA mental illnesses
The first group or cluster of the mental illness is the dark triad or dark tetrad. Certain things can be swapped out. Trust me I taught enough students to know. This stuff has never changed so knowing about it will help some of you reduce the tumor behavior
In psychology, the dark triad refers to the personality traits of narcissism, Machiavellianism, and psychopathy.[1][2][3][4] They are called "dark" because of their malevolent qualities.
Narcissism is characterized by grandiosity, pride, egotism, and a lack of empathy.[10]
Machiavellianism is characterized by manipulation and exploitation of others, an absence of morality, unemotional callousness, and a higher level of self interest.[11]
Psychopathy is characterized by continuous antisocial behavior, impulsivity, selfishness, callous and unemotional traits (CU),[12] and remorselessness.
Dark tetrad
[
edit
]
Several researchers have suggested expanding the dark triad to contain a fourth dark trait. Everyday sadism, defined as the enjoyment of cruelty, is the most common addition.
The dark tetrad, only one thing is swapped out. Psychopath or sociopath. Psychopath with dark triad can move up quickly in any industry to the top.
People with Dark Tetrad if they have sociopathy are extremely evil. If they have psychopathy, they can be extremely good and want to help others. It really depends by changing that one variable.
In other words, those who have dark tetrad with the sociopath trait are almost always evil without exception. They vibrate all their actions and emotions at the exact frequency. 94.5 Sociopathy FM radio station. All their actions is identical.
IN MY TEACHING EXPERIENCE, I GET TO WORK WITH THIS A LOT. BUT FOR THE PSYCHOPATHY. I RARELY FIND PSYCHOPATHS AS STUDENTS, BUT ONLY SOCIOPATHS.
If you understand the mating strategy you will understand the types
Psychopaths are indeed an evolutionary conundrum because their particular behaviors are not an obvious path toward evolutionary success. For example, the majority of serial killers are childless when they are killed or apprehended. Narcissistic sociopaths, however, invariably have families and children whom they support energetically, and many of the traits specific to this phenotype can fairly be called adaptive. This raises the important issue of the evolutionary niche of a narcissistic sociopath within the societies in which they exist.
In translation, Psychopaths of the past doesn't want to be fathers. Psychopaths just wants to get laid more and fuck buddies. They aren't interested that much in girlfriends
Sociopaths are more likely to try to procreate and want bigger family and girlfriends. They can turn on their caring side to women in relationships.
What's the difference between the two? Trust me I know this because I work with PUAs. The psychologist haven't really caught up yet because they don't have enough psychological studies, takes a lot of money to even organize one. I work with them all the time conducting hundreds of studies
WHAT IS THE MAJOR DIFFERENCE? Long story short version
Sociopaths are mask wearing delusional as hell. They have different eyes, sociopaths are like money hungry, selfish delusional types. Its all about them.
They have predictable traits and they all act like identical twins, think tumors.
They always get a quick growth spurt, 33% or 1/3 up on the industry. Then they get stuck. They plateau.
But they get really narcissistic and they fall back down.
They are heavily into relationships, if they have higher SMV. But beneath the mask they are totally crazy.
A lot of dating coaches shares this quality especially RSD. They typically operate with zero guilt.
They can't feel guilt if their life depended on it, so they screw people over acting as if it doesn't exist. They can't feel it anyways, they almost skip over the part they should feel guilty. They will pretend, but everyone subconciously knows.
Psychopaths on the other hand these days, are typically way smarter. They can go higher in the world.
They don't have any empathy whatsoever. But they don't wear mask. Typically they don't even care about a mask they are swearing all the time. They don't care.
They are not delusional and being a psychopath, the violence depends on how high functioning they are. It is the sociopaths who out number the prisons, compared to psychopaths.
Typically you will see a lot of wallstreet guys and politics, top big name billionare CEOs who are typically psychopaths.
Without a clear mental filter and a lack of delusion, they can't get there. Sociopaths 33%, they are up there in the top 1%. Movies have made psychopaths seems like killers, but most aren't. These guys have good leadership qualities. They are not emotionally affected like the sociopaths.
Since almost all the PUAs are sociopaths less of them psychopaths, lets use the sociopath chart.
There is no change, no exceptions
Lots of dating coaches will be charming, charismatic. Once they show the serial killer eyes, they will charm the sheeps.
The sheeps will follow and go Bahhhahahaahhaahhaaaaaa…
The sheeps have a very low I.Q, low emotional E.Q and spirtual I.Q.
As RSD said, these guys are hurt. So they brainwash them gentley blue pilling them to red pill.
SHEEPS ALWAYS HAVE TO WORSHIP, SO THEY CAN TURN OFF THEIR CRITICAL THINKING AND GIVE ALL THEIR NEUROPATHWAYS BECAUSE THEY ARE WEAK AS WOMEN ARE, EMOTIONAL AND LITERALLY THINKS LIKE A WOMEN.
THEY ONLY FEEL COMFORT IN THE ARMS OF TALL STRONG POSITIVE STEREOTYPE DATING COACHES SLEEPING ON THEIR PECS
There is a no worship policy here…
NPD OR NARCISSISTIC PERSONALITY DISORDER
Narcissistic people are just as dangerous as Autism to women. But the difference is if you have higher SMV, it can be mistaken as confidence. Women are stupid and does fall for these things…
Doctors and mental health professionals often use the new edition of the Diagnostic and Statistical Manual of Mental Disorders (DSM-5), published by the American Psychiatric Association, to diagnose mental disorders, such as NPD. The DSM-5 diagnostic criteria for NPD include the following traits:
having an inflated sense of self-importance and entitlement
needing constant admiration and praise
expecting special treatment due to perceived superiority
exaggerating achievements and talents
reacting negatively to criticism
being preoccupied with fantasies about power, success, and beauty
taking advantage of others
having an inability or unwillingness to recognize the needs and feelings of other people
behaving in an arrogant manner
Most of these psychologist haven't scratch the surface.
For my students they wear a nice watch all the time and wear nice clothing at home to raise their self esteem. Higher the self esteem, lower the ego.
Higher the ego, lower the self esteem.
But for narcissistic sociopaths, the greedy kind, no matter how much self esteem they have,, it doesn't lower their ego. For the dark tetrad
THE BIGGEST PROBLEM IS FOR NARCISSISTIC PUAS, THE ONES WHO DRESS BETTER, BUT IT STILL SUPPORTS THEIR NARCISSISM ARE EVIL AND WILL TURN RED EYED, LIKE ANAKIN SKYWALKER FROM STARWARS. POWER HUNGRY AND UNGRATEFUL, EVIL
They will never recover and the only think they deserve is a swift kick to the nuts. They will eventually fuck up their lives. The pride before the fall.
Signs of Machiavellianism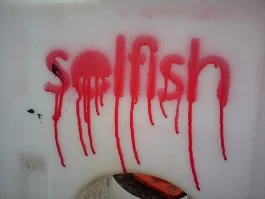 Someone with the trait of Machiavellianism will tend to have many of the following tendencies:
only focused on their own ambition and interests
prioritize money and power over relationships
come across as charming and confident
exploit and manipulate others to get ahead
lie and deceive when required
use flattery often
lacking in principles and values
can come across as aloof or hard to really get to know
cynical of goodness and morality
capable of causing others harm to achieve their means
low levels of empathy
often avoid commitment and emotional attachments
can be very patient due to calculating nature
rarely reveal their true intentions
prone to casual sex encounters
can be good at reading social situations and others
lack of warmth in social interactions
not always aware of the consequences of their actions
might struggle to identify their own emotions
HIGHER SMV UPWARD SPIRIAL, LOWER SMV DOWNWARD SPIRAL. THEY HAVE THIS DELUSION IS IT THEIR GAME, NOT THEIR VALUE
They will usually dismiss their value, saying she was not initially into him because of his race. Or they will deny any SMV advantages.
The same comorbidity, with a person with lower SMV will feed a different delusion.
They will think its looks. But I know plenty of good looking tall white guys with autism. That also disqualifies you.
My point is most PUAS has a blindspot to their own Sexual Market Value or SMV and thinks it is all game.
Women are already into them in the first few seconds and they pretend not to be. But they are. Your either preselected or not. There are many factors.
These types of delusional people like Charles Manson can dismiss things. In their minds, they are always right. Even before they think, they have a strong feeling they are so right.
In reality, both value and skills matters. Getting over the 20/35 line of fuckability.
Even those with lower SMV without that many advantages will automatically gravitate towards, it is all game.
They get mentally trapped by the dark tetrad sociopathic dating coaches telling them it is all game.
They ignore skills. Social skills is non existent for most PUAs.
We will talk about autism or aspergers in the future, it is not the same.
CONCLUSION:
Conclusion, all PUAS have similar clusters of mental illnesses. They all have like 10 of them. It is just swapped from sociopath or psychopath. Or Autism or Aspergers.
The only thing that separates all of them is if they are all evil or good of their soul.
After my white 18 year old student got laid during the corona virus he is so appreciative and so grateful. These other people are not greaful. Some just wants to use you, you get them way too much results.
The last guy, 2.2 million in 3 weeks. A year 24 million. Even if I did almost half, even if I sold for him in real life. That will be 15 million, divided it by 2. I could retire. But, sorry, John can walk away from money.
If I wanted money, I do some marketing job, I don't even need to show my face. I use my sales and copywriting skills. In any industry, in a few years I am usually number 1 in it. Daygame GamingElite already was number one at the second year for student results.
Now I have more free time, I will work on the testimonials for the bootcamp.
Of course Covid 19 and the bootcamp. This can be dangerous.
But I will start to make some thumbnails.
Maybe some of you want some Online Mentoring before the gates opens.
https://www.johnelitedating.com/online-mentorship
This is just part 1 of the PUA dieases, comorbidity.
Like I said, the psychology community still needs to catch up their knowledge. I sometime feel like I am running a nut house, or mental hospital sometimes.
Some are nice, some are evil.
Next time we will cover part 2. Aspergers Syndrome vs Austism…
Yes PUAS have like 10 mental illnesses or something.
Otherwise they couldn't be PUAs.
My Pakistani mentor when I asked him about that, he said this is the DNA of PUAs.
He isn't deluded, that much is for sure.
He always warned me about people using me for my abilities from day 1. He was spot on. He also told me to write a book before too, I often don't always listen.
That might lead into a future text game book.
Him 3 approaches, one goes all the way to his mansion he pulls or gets laid. Depending on him if he can tolerate her.
The stats are 11% for white people SMVing it. His stats are higher.
I also wanted to write this blog post so I have some kind of outline to talk about on Youtube Live. I've been wanting to make this Youtube live for years talking about this subject. It is a good time now.
Also, people can see how they became RSD victims and how their mind trapped them into mental masturbation bullshit concepts.
-John Elite