Not joking I literally field tested every system for 3 months to 6 months each to see what worked or didn't. Why I found most daygame systems were 1% golden nuggets and 99% bullshit? I screenshot a few of the products I bought
I HAVE STUDIED EVERYONE'S SYSTEM, I JUST FULLSCREEN AND SCREEN CAPTURED TO SHOW YOU THESE SYSTEMS. IF SOMETHING IS BEING TAUGHT IN THE DAYGAME INDUSTRY, I PROBABLY FIELD TESTED IT ON MY LOW SMV TO SEE IF IT ACTUALLY WORKS OR NOT. THERE IS ON SPIN ON THESE POST,
This slideshow requires JavaScript.
ALL OF THESE ARE MY COPIES OF THE PRODUCTS AND BOOKS. I HAVE TONS MORE I HAVEN'T EVEN SHOWN YOU. THERE IS NO SPIN IN THIS POST. THIS IS A BIOGRAPHY. I CAN LITERALLY MAKE A POST FOR EVERY SINGLE SYSTEM I FIELD TESTED
Sorry been away for a day, needed to read a bit, i'm back at least. You will learn my real backstory with the game. John Elite, or GamingElite the mad scientist who is always looking for golden nuggets of daygame and discarding the rest of the dirt. I believed every system had 1% or two percent good things I will collect it all and put it together.  
BACK THEN IN UNIVERSITY, THE BACKSTORY
I was a PUA called GamingElite before I joined any company or even worked as an Entrepreneur dating coach trying to figure out daygame.
I used a layguide but it was more of a night game guide. I used it in university. But I left university so I needed to find a better way. I really wanted to field test more systems because indirect from Ross Jefferies and Mystery concepts weren't that effective so I wouldn't have to just keep getting auto rejected by indirect game nonsense of NLP shit and Mystery shit.
He didn't have the Mystery Method book yet, but he did disagree with Ross Jefferies in 2003. I started in 2001, I am the OG of daygame .
I also did field test Neil Strass game for daygame before called Rules of the game 2007. I studied everything.
Indirect, then disqualify yourself, saying you aren't approaching her, say she is brunette your into blondes. Invite her out to a party, invite all the numbers there. I know everyone's system. 
I JUST WANTED TO GET A FEW DATES HERE AND THERE. AT THAT TIME MY BELIEF IN DAYGAME WAS SHAKEN AFTER I LEFT UNIVERSITY
I wanted to be able to get dates even lays and I could get more results in daygame.
The thing is I used indirect game, or field testing every system because none had the solutions for an Asian man. That meant I wasn't able to get dates even lays, let alone get more results in daygame.
To make things worse, I felt terrible because I realized that race did actually matter.
Back then there was no Asian dating coaches and no one that gave any real advice while everyone was using the tall white mans game. Even JT Tran didn't show up until a later time but his game wasn't getting any daygame laid testimonials, just night game.
TRUST ME I BOUGHT MOST OF THEIR PRODUCTS AND I FIELD TESTED EVERY SINGLE MATERIAL AND EVERY SINGLE COACH. HE HAD THIS MYSTERY METHOD LIKE METHOD TAUGHT BY SOME LATINO WHO DOESN'T HAVE AN INFIELDS OR ANY PROOF OF ANYTHING
HE EVEN THINKS ASIANS SHOULD GO DIRECT, HI MY NAME IS JT, WHAT IS YOUR NAME? OR YOU ARE FUCKING BEAUTIFUL. YEAH… TRY THAT DAYGAME, I DARE YOU
He also have this Asian inner game nonsense. I say for my Asian students with inner game issues. His students are happy to get a kiss on the cheek or overcome their limiting beliefs. My Asian students gets laid and overcome their limiting beliefs. That's more effective. 
NOTHING WORKS FOR DAYGAME AND EVEN THEIR STUDENTS DOESN'T GET RESULTS DAYGAME. THEY HAVE NO SOLUTIONS.
ABCDEF
OFF THE TOP OF MY HEAD, I MIGHT OF MESSED UP A STEP OR TWO, MY MEMORY ISN'T PERFECT BUT I STUDIED IT. IN DAYGAME THEY ONLY GO UP TO THE C PHASE AND NUMBER CLOSE.
A = ATTITUDE, APPROACH ATTRACT
B = BANTER, BE IN THE MOMENT BT SPIKE
C =COMFORT, COMPLIANCE, 
D = DISQUALIFY, DIRECT INTENT
E = ESCALATE 
F= FUN OR FUTURE
I felt even worse about the situation because I kept going from one direct game system to another. I read every single theory I could of the game and field-tested it. It didn't work, then I got digital products.
I felt like what the fuck is this, is the whole industry bullshit? Is there something missing? Is it because I am Asian?
Its just the same as Mystery Method venue changes that screws over Asian men. They should be focused on pulling non stop. He believed there was a low investment first part of the date, then you spike the emotions then some romantic dinner or walk and pull.
Today I know all you need is maneuvering, sexualizing to the max and objections dealing, comfort to close. This stuff is adding venue changes and delaying seduction until the end. This is my copy of the book btw, so I am screenshotting it, which is pure bullshit.
JOHN DO YOU HAVE A BONE TO PICK WITH MYSTERY? YES I FVCKING DO. MYSTERY'S NIGHT GAME CONCEPTS HURT ASIAN MEN BECAUSE NIGHT GAME IS MORE ABOUT SOCIAL CALIBRATIONS BODY LANGUAGE AND A LITTLE BIT OF GAME. NO SOCIAL SKILLS OR EMOTIONAL INTELLIGENCE. JUST A FILTER GAME OF DRUNK DTF WOMEN SO ASIANS STILL STRUGGLED WITH DAYGAME AND THIS COMPANY HURT ASIAN MEN FOR DAYGAME
I RAN INTO ANOTHER WALL AND NOW REALIZED THAT RACE DID MATTER MORE THAN EVER. BEING ASIAN IT IS HARDER IF YOU AREN'T TALL, STRONG OR GOOD LOOKING. YOU NEEDED AT LEAST ONE OF THOSE TO COMPENSATE
I never understood this chart until much later
The problem was that going direct got me unreliable phone numbers and it was a game of value.
Back then mind you we didn't have texting. That also made it harder too. We just had to call women and their dad will pick up the phone.
We would write her number on a piece of paper or our hand with a pen.
Which meant I was still not getting the results I was looking for.
I was daygaming more than 10 hours a day. I bus out to malls, daygame all day then went to Vancouver, daygame some more all day
Then, as if by chance, something amazing happened…
I REALIZED I CAN FIELD TEST EVERY SYSTEM LIKE A MAD SCIENTIST AND SEE WHAT DIRT I CAN DISCARD AND WHAT GOLDEN NUGGET I CAN ABSORB. ANY PROGRESS WAS BETTER THAN NO PROGRESS AT ALL AT UNIVERSITY. 
There was no Asian daygamers back then, it didn't exist. I had to go in it alone and figure this out. I wasn't even a dating coach yet. I just wanted to see if it worked.

That's when I started to discard pieces of the game like Bruce Lee.
It revealed that if something isn't working, just take the best golden nugget and move onto the system.
I figured on a long enough timeline, I would eventually crack the code!
It was now crystal clear to me how to I was getting closer and closer to some progress at least, because I saw that if I learned every single fucking system in the world I will eventually crack the code.
I also learned that game itself wasn't everything because trying to improve your game has its limits.
There is a line of fuckability, 20/35 chart. You need to focus on also learning social skills as taught by my Pakistani mentor later on, but I will get into that later,
You should stop thinking its all game, but work on your social calibrations like body language, facial expressions, vibe instead of spitting out these game sounding autistic Aspergers tactics if you have lower SMV as an Asian instead.
I DID MEET HIM LATER ON IN THE FUTURE WHEN I WAS GAMINGELITE AND A DATING COACH
It was Yad's game that sort of helped me last a bit longer in conversations actually
At the time the assumption stories, challenging, push pull, teasing, self amusement was from Yad. So he gets the credit for the golden nuggets. It was a new way to think about the game because he had this chart.
THE CHART IS VERY FLAWED. IF ATTRACTION BUILDING STUFF IS ALL THE RIGHT CROSS. IT IS LIKE GOING TO A MMA FIGHT AND ONLY THROWING THE RIGHT CROSS. 
IF THE RAPPORT WAS ALL JAB, THEN IT WAS LIKE ONLY THROWING JABS. YOU WILL GET KNOCKED OUT AND MOST OF THE PEOPLE USING THIS GOT FUCKED OVER BY INFERIOR TACTICS. JUST AS SEDUCTION IS AT THE VERY END, HOOK PUNCHES. YOU ARE USING THE SAME PUNCH IN EACH STAGE WITHOUT VARYING IT. NO WONDER IT DOESN'T WORK WELL. YOU HAVE TO DO A HUGE NUMBERS GAME.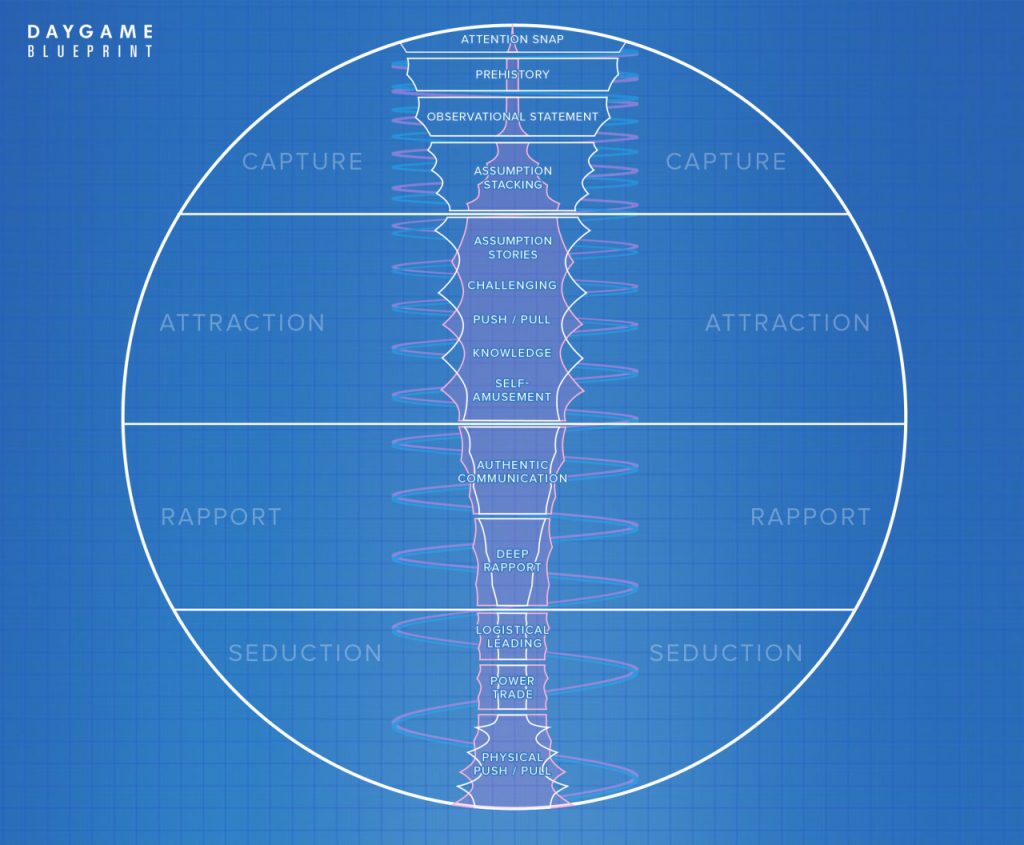 As a result I started to last a lot longer in the conversation at least. .
After I did that, I started get more dates than before .
Suddenly, I had more experience dating.
That's when I realized that the secret to figuring out daygame.
I used a layguide but it was more of a night game guide. I used it university. But I left university so I needed to find a better way
The more systems I went through, the more things were revealed to me. But only in golden nuggets.
They all followed the give a direct compliment, build a bit of attraction, comfort and number close bullshit numbers game.
The Plan
My plan was to start learning even more systems, direct, indirect, anything I want to learn it all, no matter where it was from. .
So I started acquiring every material I can and trying to take the golden nuggets from it. If there was something good I want to learn it. Even if I can take 1%. But I didn't stop there.
I then started to field test them every system 3 months for each of them at a time to see what worked and what didn't work.
After that, I can see what led to more dates and pulls and which ones didn't or lays. I can then discard some pieces.
I started even looking into natural game. But these were tall white guys SMVing it. It wasn't the same as the real naturals that I know today. What they taught was purely bullshit.
A good looking guy who hires actresses, not even game. fictional writers
I'VE LEARNED THIS STRUCTURE FROM MATT ARTISAN, HE GETS CREDIT FOR THE SOCIAL COMFORT PHASE IN THE PLAYBOOK. ALTHOUGH HIS GAME IS JUST A COMPLIEMENT AND REPEATING THIS STAGE 3X AND GETTING A NUMBER WHICH I DISAGREE WITH…
I SIMPLE REDID THIS PROCESS AND TWEAKED IT. NONE OF THE OTHER WAYNES USED THIS BEFORE. BUT I CHANGE MATT ARTISANS TRIANGLE TO SOCIAL COMFORT.
I often am not good at connecting, but though field testing I knew if I kept my body more relaxed at this stage I would get her asking me questions.
I'm not the emotional type and I like to steam roll over women. Which actually is more suitable for Asians.
ALSO, OTHER WAYNES DIDN'T CARE IF THE WOMEN ASKED QUESTIONS OR NOT, BUT I DID. SO DID ALL THE NATURALS I LATER WAS MENTORED BY. ALSO, ALL THE NATURALS DID IT.
BUT I ALSO LEARNED IT FROM ROOSH V'S BOOK DAYBANG, THAT WAS WHERE THE GOLDEN NUGGET CAME FROM. WOMEN WILL ALWAYS ASK YOU, WHAT IS YOUR ETHNICITY, WHERE ARE YOU FROM, WHAT DO YOU DO?
The yellow part of the chart actually came from naturals and Roosh V. I still think Roosh V's indirect game sucks.
YOU CAN SEE A QUALIFY STAGE. JUSTIN WAYNE'S SYSTEM LATER ON HELPED ME SET IT AT THE ESCALATION LADDER.
JOHN WAYNE'S AND JUSTIN WAYNE'S ESCALATION LADDER WERE THE ONLY ONES THAT HAD 5 STAGES IN IT LEVEL 1 TO 5. NOT 4. SO THAT IS DIFFERENT. I DISCARDED THE QUALIFICATIONS. IT WASN'T NECESSARY. ILL TALK ABOUT HIM LATER IN A FUTURE POST. JUSTIN WAYNES GAME GAVE ME SOME GOLD COINS NOT JUST GOLD NUGGETS. BUT LOTS OF DIRT TOO ALONG WITH THE GOLD
I ALSO CALLED OUT JUSTIN WAYNE ABOUT ROMANCE, HOW ASIANS DIDN'T FIT INTO THE BOYFRIEND GIRLFRIEND FRAME WHEN I TALKED TO HIM FOR THE FIRST TIME AS JOHN WAYNE.
HE WAS LIKE YEAH, YOU STILL HAVE TO ADD ROMANCE SOMETIME RIGHT? UMM…
BUT THAT'S FOR ANOTHER TIME
If conversational skills were jabs
teases were right crosses
flirts were hook punches
Uppercuts were touch. 
JUSTIN WAYNE'S GAME IS ENTIRELY UPPERCUT AND HOOKS
IT IS ENTIRELY MISSING JABS AND RIGHT CROSSES, ATTRACTION BUILDING. SINCE HE IS A TALL NEGRO THAT IS PRESELECTED. BLACK PEOPLE HAVE A HUGE ADVANTAGE.
BEFORE I LEARNED SIMPLE PICKUP BULLSHIT. THEIR GAME WAS MAYBE ONE OF THE WORST. KONG HAD ONE PULL INFIELD AT NIGHT. JESSE JUST GOT ONE INDIAN GIRLFRIEND. IT WAS A WELL MARKETED BULLSHIT.
TURNS OUT ROOSH STARTED IN 2001 TOO BUT MORE OUTSIDE NIGHT CLUB STREET GAME. HMMM INTERESTING.
HE ALSO HAD A SYSTEM CALLED GALNUC, I KNOW AND FIELD TESTED EVERYONE'S SYSTEM. I MADE IT MY BUSINESS TO LEARN EVERY STYLE
G = GERMAN, WHAT'S YOUR ETHNICITY
A = WHAT IS YOUR AGE
L = WHERE DO YOU LIVE
N = WHAT IS YOUR NAME
U = WHAT DO YOU USUALLY DO FOR FUN
C = CLOSE OR NUMBER CLOSE.
SIMP PICKUP AND LOVE SYSTEMS TALKED ABOUT QUALIFICATIONS. I DIDN'T KNOW WHERE TO PUT IT. LOVE SYSTEMS WAS CONFUSING AS HELL AND MORE MYSTERY METHOD WHITE MANS TECHNOLOGIES NOT DESIGNED FOR AN ASIAN…
Simp Pickup was where I learned a 30 day challenge. So I thought why not make one for social skills instead? Wouldn't that just make it a lot easier to teach social calibrations? It came from Simple Pickup that idea. I didn't learn shit from Simp Pickup. It was a bullshit system of 20 minutes to nowhere. How to get flaky numbers.
If I were to learn one thing in my system, it is down talk. That is what Jesse talks about all day. Down talk this down talk that.
KONG HOWEVER HAD THIS STUPID STATEMENT IDEA. HOW HE FUCKED UP CONVERSATIONAL STRUCTURE FOR THE REST OF THE WORLD AND LONDON DAYGAME BOTH FUCKED IT UP ROYALLY TOO
QUALIFICATIONS WAS HERE BUT LOVE SYSTEMS DIDN'T EVEN KNOW THE CORRECT FUCKING ORDER. SO IT JUST CONFUSED ME.
ITS SUPPOSE TO BE APPROACHING, TRANSITION, ATTRACTION, COMFORT, QUALIFICATION AND SEDUCTION YOU DUMB FUCKING IDIOTS. IN THE FUTURE JUSTIN WAYNE PUT THE PIECES TOGETHER

But there was still a problem…
STILL NOT ENOUGH GOLDEN NUGGETS
I wasn't even a dating coach yet at this particular time. I was just a PUA who goes out there daygames all day and all night. Then comes back home. Just happy to have any small success was better than getting auto rejected in university.
I really wanted to believe that it was all game. Not SMVing it.
At the very least they later have texting on cellphones. This was the era that gave more women power to flake on guys.
I DID LEARN A BIT OF TEXT GAME FROM VALENTINE, MATT ARTISAN AND MY PAKISTANI MENTOR BTW. THEY GET CREDIT A BIT FOR THE GOLDEN NUGGETS. BUT NO WHERE NEAR AS GOOD AS MY TEXT GAME TODAY. BUT IT WAS A START. I HAD A FEW BIG GOLDEN NUGGETS. NONE OF THE OTHER WAYNES CARED FOR TEXT GAME.
I HATE TODD V, BUT HE HAS BEEN IN THE GAME FOR 19 YEARS WHILE I HAVE BEEN IN THE GAME FOR 18 YEARS. THE DIFFERENCE WAS I FIELD TESTED EVERY SYSTEM SCIENTIFICALLY AND HE STUCK TO HIS RSD SHIT. WHY OUR TESTIMONIAL COUNT IS THE OPPOSITE FOR STUDENTS LAID
You can see how I am more scientific I field test and split test. He was more of a philosopher. As he would say in his winner game product, my philosophy this my philosophy that. I am not interested in theories or mental masturbation
FRED
FOCUS, REDIRECT, EMOTIONS, DECISION. I KNOW EVERYONE'S GAME. I MADE IT MY BUSINESS TO KNOW. ITS BULLSHIT CHECKLIST OF CONCEPTS. NOTHING YOU CAN TRAIN FOR.
I learned another golden nugget text game but I made it 10x better. 
Due to Todd, my Daygame stop, where you focus for 2 seconds was from his idea of attention. One golden nugget. Todd gets credit for just the second step ATTENTION
I didn't realize he had two golden nuggets. I sure as hell don't like Validation.
When I talk about him or his concepts I am not talking out of my ass. I really do know. There is a difference between understanding and knowing. I know, I field tested everyone's game.
THE RSD VICTIM FUCKUP
I was late to RSD, but that's when my game tanked to rock bottom.
I LEARNED FROM ANOTHER TALL STRONG ASIAN DATING COACH FOR ONE DAY AND HE WAS TRAINED BY RSD TYLER AND RSD JULIEN. NOW I HAVE THESE SOCIOPATH GAME INTO MY SYSTEM.
RSD IS CANCER AND THIS CANCER DESTROYED VANCOUVER OR ALL THE ASIANS. THE WORST THING IS THEY DIDN'T EVEN REALIZED IT AND ALL QUIT TO NIGHT GAME.
I really didn't know until later on when someone else told me he learned from RSD. Also Simp Pickup stuff. The lines were ripped out of RSD and this kind of game has destroyed Vancouver for almost a decade. Luckily I put a stop to that shit.
There was no comfort stage whatsoever. Just SMVing. Everything fell apart.
RSD was the worst of the worst, even worst than Simp Pickup.
I ended up getting so frustrated that I decided to teach some of this stuff for free in the beginning and see what works and what didn't.
I chose to call it "GamingElite teaching students for free during the first year just to split test what worked or not".
I thought if I could create something that would make it possible to see what golden nuggets worked then I can see if it was my race or was it a game issue. That would be awesome and shed some light into the whole issue of daygame, I'll be really happy.
After I taught every single race, every height. I even started to steal students from other dating coaches and taught them for free to begin my crazy experiment, I GamingElite taught students for free during the first year just to split test what worked or not.
I can now get tall white students laid. But if someone else got laid he was often a tall guy, like Tall Indian or tall this, or tall that. They were around 5'9 to 6'2 for all of them. This seemed to be the sweet spot..
I then started to let other daygamers use GamingElite teaching students for free during the first year just to split test what worked or not.
As a result of all this I was able to achieve the following:
I was able to get some of the students laid at least and all the tall ones were getting results. The Asians were still getting curb stomped in Vancouver and most of them will either just game Asian women or quit daygame entirely.
The most sociopathic Chinese ones will stay longer because they were mentally tougher, but eventually they will all give up and say fuck it.
In fact most of Vancouver PUAs would only daygame for less than 3 weeks. Its that tough here. Get their ass kicked so badly they quit to night game.
After I GamingElite was teaching students for free during the first year just to split test what worked or not, I was not only able to know a bit better what to do.
I realized I was at least a better daygame coach than all of the daygame coaches in the world.
I already have more students laid and I was getting a reputation of my teaching abilities,
I've also been able to stop spending so much time field testing by myself, so the students can field test which systems has the 1% golden nuggets or where they all make-belief fictional bullshit,
I can now discard the pieces that were just marketing hype, keep that 1% from every dating coach in direct game and do the whole Bruce Lee process of absorbing what is useful, discard what is not, add uniquely what is your own process in a faster way.
And in the end, all of this means I'm now able to start to form bits and pieces of the puzzle to daygame.
However, it wasn't perfect until I finally saw Justin Wayne's system. It finally let me see at least more of the picture. This was the same time I also met my Pakistani mentor. Who taught me the true nature of daygame and lifestyle was included.
More in part 3 of this story.
NOW I KNOW LOOKS/HEIGHT, RACE AND GAME ARE 3 CATEGORY. DIDN'T THINK MONEY HELPS UNTIL I MET MY PAKISTANI MENTOR, BUT THAT'S FOR THE FUTURE POST. HOW FASHION BOOSTING HAPPENED, ALL THAT STUFF
I'LL TALK ABOUT JUSTIN WAYNE IN THE NEXT POST. I THOUGHT HE HAD ALL THE ANSWERS, BUT NOPE NOT FOR ASIAN MEN. IT WASN'T COMPATIBLE.
YOU WILL ALSO LEARN MORE ABOUT MY PAKISTANI MENTOR AND HOW HIS IDEAS OF SOCIAL SKILLS, SOCIAL CALIBRATIONS, LIFESTYLE, VIBE, TEXT GAME, INSTAGRAM SUPER CHARGED MY GAME. YOU WILL SEE HOW MOST OF THE DAYGAME INDUSTRY IS TAUGHT BY SOCIOPATHIC ASPIES WHO HAS ON CLUE AND SMVING IT.
STAY TUNED, SORRY FOR THE DELAY.
WHAT KEPT ME GOING EVEN IF 3 YEARS OF REJECTIONS IN UNIVERSITY WAS DEPRESSING? I KEPT GOING FOR ALMOST ANOTHER 2 DECADES?
I knew no one else was going to find the answer on a consistent level. Maybe I thought I was saving the world, or saving the world from all the misery I went through since most daygame systems were bullshit.
WHY WAS I SO DESPERATE TO FIGURE OUT THE ANSWER FOR SHORT SKINNY ASIAN MEN?
There isn't a solution until now. But I don't want just the tall, or good looking or buffed Asians to get results. I want even the short super skinny ones, all of them too. The worst thing is they are even ignoring or skipping Elite 30 and going to the playbook. When it is the cure.
WHY ARE THERE NO ANSWERS UNTIL I AM A DATING COACH? WHAT ARE OTHER DATING COACHES NOT SEEING?
Not even ABCS gets it or any Asian or any other dating coaches. Asian men are below the poverty line of value in daygame. That is what they can't see. The only race if not 5'9 or taller. Asians have no sense of fashion, all black clothing. Also, zero social skills, zero.
ISN'T LOOKS/HEIGHT/MUSCLES, MONEY, RACE, SOCIAL SKILLS, EMOTIONS WAY MORE IMPORTANT?
It's all a lie that it is all game. It is a combination of everything. Women have a scale in their mine, they can subconsciously calculate your value by your body language too down to the exact number and know if you are past 20/35.
WHY ARE YOU NOT WRITING THIS STORY AS IF YOU WERE THE HERO?
RATHER THAN SPIN THINGS SAYING I AM GODS GIFT TO WOMEN OR A BORN NATURAL
I think when people see what I have been though. They might start to see, that I went to hell and back.
I WASN'T SOME HIGH RACE LOOKING PRESELECTED GUY. I HAD THE LOWEST SMV IN THE ENTIRE DAYGAME INDUSTRY IN THE WORLD. EVEN IF MY GAME WAS 11/10, IT WOULDN'T AUTOMATICALLY BE ENOUGH. THE OTHER AREAS NEEDED TO BE HANDLED TOO.
It wasn't one person who contributed to my game or two, it was every dating coach. But most of it had to be discarded.
HOPE YOU LEARNED SOMETHING. I BET NO ONE WILL WANT TO GO THROUGH ALL OF THAT FIELD TESTING.
BUT SOME OF YOU WHO DIDN'T BUY MY PRODUCTS OR BOOTCAMP YET ARE GOING THROUGH JUST THAT.
YOU ARE REDOING MY 18 YEARS WHEN YOU DON'T HAVE TO. ARE YOU INSANE?
Maybe you didn't realize how many mistakes and how much sacrifice I had to do just to get you these products and game you took for granted.
Or you didn't see where the testimonials actually came from. When you Skyped with me I taught the game very differently. Even the stuff I teach in the inner circle is different. You are on a need to know basis.
The products is already strong enough for a lot of people. Some people want more insights then get some online coaching or bootcamps.
HOW COME EVERY SINGLE PROGRAM YOU HAVE HAS LAID TESTIMONIALS JOHN? SOME AREN'T EVEN GAME RELATED, BUT LIFESTYLE, TEXT GAME, BODY LANGUAGE. HOW IN THE WORLD?
I have field-tested every aspect of everything. I haven't even got into the story of Justin Wayne. How GamingElite Eventually became John Wayne.
I'M SURE SOME OF YOU AFTER 18 YEARS OF THIS SHIT. IF YOU WENT THROUGH UNIVERSITY LIKE I DID AND YOU ALSO HAD TO FIELD TEST DIRECT GAME. I'M SURE SOME OF YOU MOFOS WILL COMMIT SUICIDE AND JUMP OVER A BRIDGE. I DIDN'T. THAT'S WHY I HAVE A TOUGH GUY BEHAVIOR OR DOESN'T SEEM LIKE THE HAPPIEST GUY IN THE WORLD, BUT CAN YOU REALLY BLAME ME? 
Old pic of GamingElite, doing daygame before. I was really skinny before. THESE WERE IN 2015 WHEN I WAS STILL A DAYGAME COACH
Professionally I started in 2014, but unprofessional even before that. At one point I taught for free and took other students from other coaches and trained them for field testing. But that will be for a future story.
Back then I was much better looking, but it wasn't about looks that mattered. Muscles and height mattered more if you were Asian. Your looks would have to be much higher, past 8/10 to matter if you were shorter. Or if you were short, you had to be totally buffed.
We will talk about that in the next post.
-IF JOHN ELITE KNOWS EVERY DAYGAME SYSTEM IN THE WORLD AND TOOK THE LIBERTY TO REMOVE THE DIRT AND KEEP THE GOLDEN NUGGETS AND HAVE THE MOST STUDENTS LAID IN DAYGAME IN THE WORLD AND EVEN HAS TONS OF ASIAN MEN TESTIMONIALS.
WHY THE FUCK WOULD YOU EVEN TRAIN ANYWHERE ELSE??? IF ITS JUST DIRT OR CRAP? JUST TO FIND MAYBE ONE GOLDEN NUGGET OR TWO? THEN YOU WILL GO TO THE NEXT SYSTEM. AREN'T YOU REPEATING MY PROCESS? WHICH WAS TOTAL MADNESS?
WHO THE FVCK HAS THAT MUCH TIME AND ENERGY OR MENTAL FORTITUDE TO DO THAT? IF PEOPLE SAY OH JOHN ISN'T BEING POSITIVE OR SOME NONSENSE. YEAH PUT YOURSELF IN MY SHOES. I PAID THE EMOTIONAL PRICE AND SACRIFICED ALMOST 2 DECADES SO YOU GUYS DON'T HAVE TO.
Finally writing all this is very therapeutic. I feel better. For some of you, it can be emotionally traumatic. Or upsetting.
Now you see why my concepts are like this. This system is basically exactly like Krav Maga. An Israeli system of survival and innovation. Out numbered, out SMV'd. Coming out on top.
But someone had to crack the code and find the cure to this short skinny Asian daygame cancer. It might as well be me. I don't see other Asian dating coaches putting a dent in this problem for daygame.
FOOD FOR THOUGHT
"Maybe it's my fault.
Maybe I led you to believe it was easy,
When it wasn't.
Maybe I made you think my daygame coaching highlights started when I was John Wayne,
And not as GamingElite.
Maybe I made you think that every student I took on was a game winner.
That my game was built on flash, and not golden nuggets.
Maybe it's my fault that you didn't see that failure gave me strength,
That my pain was my motivation.
Maybe I led you to believe that coaching daygame was a God given gift,
And not something I worked for,
For almost 2 decades of my life.
Maybe I have redefined daygame coaching.
Or maybe you are making excuses for training with me
START HERE
John Elite (GamingElite)