The reason for this blog post is for those who comes from a poverty country with a poverty mindset.
There is a book I learned this concept from.
People with a lower consciousness or lower self doesn't read. They just dismiss and project their deluded filter about results or the bottom line. I'll teach you guys how to think.
I don't believe in self help books. But some are decent, rest are just marketing like RSD. This one is one of the golden nuggets.
My aunt bought me the version for teens before. Some of the lessons I still use today.
These are the 7 habits. Taking action is habit 1. This is a Dan Pena concept. Take action, you will never die, even in debt. I have to agree. When I am forced to take action burn the boats behind me, then I win.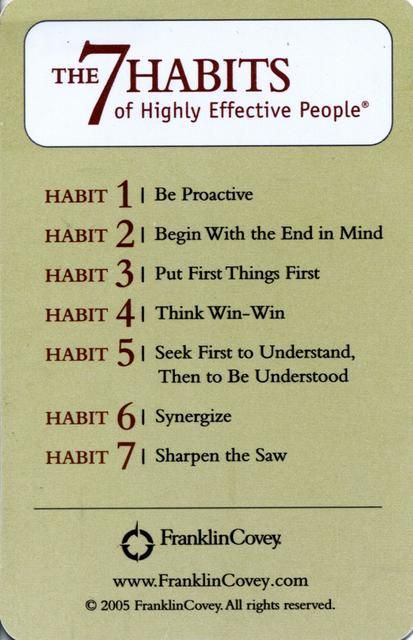 Habit 2, Begin with end in mind. What Dan Pena taught is have an exit strategy so  you know how much to invest and when to leave to make the next quantum leap or growth. While I didn't go to the castle seminar. I have the same mind as him. Since i'm the best dating coach in the world. We all have the same filter when we are the best in the world at anything. Even the best cooks will have it.
Habit 3, just fucking do it. Dan Pena concept. Mine is stop with all the hardcase thinking… What the fuck is that? Just turn off your brain and walk up to her.
HABIT 4 IS WIN/WIN. THE ONLY AGREEMENT I MADE WITH THE COMPANY AND IF THEY WANT TO USE MY TESTIMONIALS, USE MY NAME ON IT. INSTEAD IT TRIES TO CENSOR ME. LOL.
Habit 5. Try to understand Deepak first, which I did in the last conversation with a mediator. Then seek to be understood second.
THIS I CAN WORK ON. LISTENING TO THE OTHER PERSONS FEELINGS. SOMETIMES SNOWFLAKES CAN'T CONFRONT OR TELL YOU IF THEIR PARENTS TREATED THEM LIKE SHIT AND THE CAN'T FIGHT BACK. ITS CONDITIONED TO NOT CONFRONT. BUT TO RETALIATE LATER ON.
Habit 6: Synergy. Means working together. THIS IS SOMETHING DEEPAK NEEDS TO LEARN. HE IS NOT A TEAM PLAYER.
Habit 7 is sharpen the saw. This is taught by Dan Pena, but also me, Kaizen. It means daily practice 1% even at home. The private victory of improving every aspect of game before you go out and practice by yourself then the world sees your miracles. But it takes work to get there. No one sees the Kaizen.
We all generally do the same things, the top in the world all has the same mindset. If Deepak said why is the money not coming in this week. I said farming.
I'm sick for 2 weeks. I was in the hospital for fuck sakes. Now i'm farming again on YouTube live. Which is habit 6 Synergize. Or as Dan Pena said, you are only as good as the 5 people around you.
I have the best team. Well I don't have a video editor. Only missing piece of the puzzle of my team.
MY CONCLUSION
I'M A MORE EFFECTIVE LEADER. I JUST NEED TO LEARN TO LISTEN. DEEPAK ONLY GOT HABIT 1 AND 7 DOWN.
I HAVE HABIT 2, HABIT 4, HABIT 6, COULD DO MORE HABIT 7. I NEED TO SHARPEN TO THE NEXT QUANTUM LEAP TO BEAT JUSTIN WAYNE. MY CURRENT LEVEL IS FINE, BUT NEED THE NEXT LEVEL.
I NEED TO BE MORE PROACTIVE ON MY MARKETING. I JUST GET LAZY SOMETIMES EVEN IN LIFE. I HAVE TO PUT FIRST THINGS FIRST. I AM BUSY WORKING HARD, BUT AM I WORKING HARD ON THE RIGHT THINGS? I ALWAYS THINK WIN/WIN, NO ONE CAN OPERATE UNDER ANY OTHER FRAME. IF THEY DO THEY CAUSE FRICTION.
I'M TRYING TO DO NUMBER 6 SYNERGIZE WORK TOGETHER. BUT HE IS WORKING WITH SOMEONE ELSE. SO AM I NOW. SOMEONE WHO MADE MILLIONS IN MARKETING AND PROVED IT WITH THEIR BANK STATEMENT. SOMEONE WHO CARES FOR THE WORLD AND WANTS TO HELP ME.
DEEPAK HAS CUT ME OUT OF THE COACHING. THE WORLD CAN SEE HE IS NOT A LEADER. BUT A CANCER.
HE JUST CAN'T SEE IT. He wants to a be a good coach. But if he wants to play it that way. I'll just post my bootcamp clips exclusively to the secondary channel.
When I leave one day, i'm taking all the infields and testimonials with me. I only choose to pay Deepak.
I don't need his help. I'll build my own audience. Do you think he is greedy? Then was Justin Wayne really completely at fault? Or Michael wayne? Or was it over money? Its evident.
I TALKED TO DEEPAK. I TOLD HIM I'M NOT JUSTIN WAYNE OR MICHAEAL WAYNE THINKING WITH THE LOWER SELF. I'LL INSPIRE YOU TO THINK WITH YOUR HIGHER SELF. SO YOUR PROGRAMMING FROM INDIA OR WHATEVER TRAITS ISN'T ALWAYS TAKING OVER.
A LEADER INSPIRES. ITS THE SAME WAY I'M INSPIRING EVERYONE TO BE AT THEIR HIGHER SELF. THIS IS WHAT DAN PENA AND DAN LOK MEANS TO CHANGE THE WORLD. I FINALLY UNDERSTAND.
i think we can change the topic now. I think I said what needed to be said. I'm starting to see now what needs to be done.
-John Wayne
DEEPAK ALSO SAID FOR THE BLACK STUDENT, HE WILL JUST TAKE ALL THE CREDIT AND EDIT ME OUT. THEN CLAIM HE GOT LAID WITH DEEPAK. IF I DON'T POST MY BOOTCAMP STUFF ON HIS CHANNEL. I'LL POST IT FIRST ON MY CHANNEL. THEN IF HE SHARES OR PROMOTES ME, I'LL LET HIM USE IT. THERE ARE TWO STUDENTS. BUT I'LL STILL EDIT DEEPAK IN BECAUSE OF MY HIGHER SELF. 
SO HE CAN'T ABUSE HIS POWER, AS HE HAS DONE NON STOP. 
IN THE FUTURE I'LL RECORD MY OWN IMMERSION TRAINING. SO THAT WAY I WILL HAVE PROOF. I DEPENDED ON HIS EQUIPMENT AS HE TOLD ME WE WILL BE IN IT 50/050. NOW HE GETS THE BOOTCAMP MONEY INCASE THEY DON'T TAKE THE IMMERSION. 
I TOLD DEEPAK, I'M AT MY HIGHER SELF. NOT EVERYONE IS LIKE YOU OR JUSTIN WAYNE OR MICHAEL WAYNE. SOME PEOPLE ARE MEANT TO BE LEADERS. I'LL INSPIRE YOU TO BE BETTER. 
ALSO NO IT OWN'T HURT MY BUSINESS. YOUR SELFISH STRATEGY ALREADY HURT THE IMMERSION PROGRAM. ONLY HELPED GET YOU BOOTCAMP STUDENTS. ALSO, ALL THE CREDIT STEALING. HE CLAIMS ITS BECAUSE PEOPLE DIDN'T LIKE MY PERSONALITY.
ITS ALL ABOUT THE MONEY. BUT HE TURNED A WIN/WIN IN 2017 PROMOTING ME TO A LOSE/LOSE OR WIN/LOSE. EVEN THE MARKETING ON HIS SIDE IS WIN/LOSE. THAT'S HIS SIDE, ON MY SIDE ITS ALWAYS THE HIGHER SELF, THE WIN/WIN MENTALITY.
Hes lucky to have anyone on his side at all. I choose to. Like a bad friend who wants to stab you in the back. But luckily I can disarm and pin him down and tell him he is better than this. He doesn't have to act like a typical indian. He isn't aware the world is starting to realize how cancerous he is. He doesn't realize, its scary to all. That maybe he had a big part in the Justin Wayne fight and Michael Wayne, he isn't a saint. 
HES NOT A LEADER, HE DOESN'T HAVE ANY QUALITIES. ONLY GOING TO MAKE IT HALF WAY IF THE MACHEVELLI MANIPULATION IS BASED ON HIS MARKETING OR TRANSFERRED OVER. THAT IS HIS GAME, ONLY WORKS FOR HIM. NOT OTHERS.
I WRITE ALL OF THIS EVEN IF HE SAYS IT CAN HURT MY MARKETING, FROM HIS FILTER. UMMM, NO IT WOULDN'T. NO IT WOULDN'T. THAT'S NOT HOW A LEADER THNNKS. THE TRUTH IS THE GOSPEL. BEING AUTHENTIC AND NOT WEARING A MASK. THINKING I WILL COPY AND PASTE HIS WORDS. I WON'T. I'M NOT YOU.
I THINK WITH MY HIGHER SELF. JOHN WAYNE WILL BE ON TOP OF THE DAYGAME INDUSTRY. ONE WAY OR ANOTHER. I'M STARTING TO SEE MY LEADERSHIP ROLE
I'll post the ugly indian project. Where they clean shit off the streets and think with their higher self. You have a choice. You have forward or backwards on your car. Higher self or lower self.
luckily he has a blind spot and predictable. If I didn't know about his kind, I would probally worry. I'm not. Every move is predictable. But for the audience they are wondering wtf, or getting scared of him. After all he took down Justin Wayne. He's smart, but not bright. People like him lack this trait. They think they are bright, or clever, or smart, or sneaky.
But its actually the same tumor of their kind. A lack of a personality. A mask of sanity. Which is starting to slip. The most machevellian person alive, more than Karisma King or anyone.  That's my gospel for today. I'm not scared.
Graditude and the love of humanity to turn it to its higher self. Not being selfish. That's my strength. Solving peoples problems. The higher self. My type has an advantage of being the best qualities of leaders. I just need to harness it. I'll be on top of the world, saving it. Once I get this marketing stuff handled.
He used his machevellian frame, that's why it only went up this far without a quantum leap or transformation. Karisma King used his filter to be broke as his game with no testimonials. But I should use my billion dollar filter and apply it to marketing.
This black student who got laid twice. I still have the evidence of my part in that students lay. Also, the training, I have videos of it. He is coming to train here anyways. He's not the only student. The other I was involved with is a snowflake 40 year old virgin guy. About his looks scale, I won't say. That's all i'm saying… He used my fashion. I mean, i'm going to edit Deepak into the day he helped me with the thai student. I am my higher self, will edit that in. I don't know if he will or not.
If I have to discuss this here, then this is really mentally fucked up to the world of normal people. Welcome to my world. John Wayne's game is powerful, too powerful, maybe a bit scary… Also, his coaching abilities too. Very fucking scary to others. Creating miracles.
If your wingman tries to amog you for marketing, call him out on his shit. Distance yourself, then try to out game him. Which i'll be doing because i'm going to post my bootcamp stuff all over my channel. Its like a bad wingman trying to steal your girl and taking credit for it. I mean what the fuck. Some people are just bad people. Some people doesn't have a good side, its fake. Its just a mask of sanity before the strike. I remember when Micheal Wayne was going to get that knife, I was told not to talk to him. I didn't know why, but now I do. Justin Wayne said he felt the same thing. Then he recorded it. But we all feel it. He doesn't think you are smart enough to. He doesn't think so, or care. He has a perfect counter plan preying on your dumbness. He doesn't think you are smart enough to be aware.
-John Wayne